Diptyque Is Launching A New Collection & It's Going To Change The Way You Wear Perfume
Courtesy of diptyque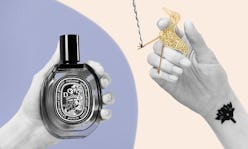 Spritzing on your favorite perfume before you step out the door is a beauty ritual that feels like second nature. Your outfit is chosen, your hair is in place, and with a last glance into your mirror — the perfume is on. It's the finishing touch. It's timeless. It's changing. Or, to be more accurate, evolving, thanks to the advent of diptyque's new Prêts-à-Parfumer collection.
And no, before any Philosykos diehards ask, it doesn't seem like diptyque's traditional perfumes are going anywhere. Rather, the Prêts-à-Parfumer collection — which officially launches online Aug. 29 — complements the fragrance brand's already established offering. Even more intriguing, you have your choice from three new ways to wear diptyque's famous perfumes: a scent-infused braided bracelet, a delicate, bird-shaped brooch, and a fragranced sticker to be applied straight onto your skin.
Which is perhaps the most interesting idea from the new collection. The diptyque Perfumed Stickers retail for $55 per pack of five, and are available in three scents with three unique, complementary shapes — the rose-shaped Eau Rose sticker, the tuberose-shaped Do Son sticker, and the swan-shaped L'Ombre dans l'Eau. Each sticker is cut out of dark, matte satin, and can be moved and reapplied as needed.
For something slightly less graphic, yet just as impactful, pick up one of diptyque's new Perfumed Brooches. Inspired by intricate Renaissance-era pomanders, which were used to carry your favorite scent with you, the $120 bird-shaped brooch uses small perfumed ceramic discs as a way to diffuse your chosen fragrance throughout the day. Three diptyque scents are available with the brooch, as well: Fleur de Peau, Do Son, and Eau Rose.
However, diptyque's Perfumed Bracelets may be the easiest place to start from all three options. Slightly more nondescript, the $90 black-and-white bracelets feature a gold-plated clasp that lets you easily take it off or put it on, with the perfume encapsulated by the woven strands. Avilable in Eau Rose, Do Son, or Tam Dao perfumes, the bracelet itself comes in a dispenser with approximately 30 lengths rolled into it; so once your current bracelet loses its scent, just pull out another one, cut it using the dispenser's hidden blade, and tie a new one on.
If you're hoping to get your hands on diptyque's Prêts-à-Parfumer collection, make sure you're on its website when it launches Aug. 29 — because this one has already created quite a buzz. Ahead, three of the new ways to wear perfume, dreamed up by the clever minds of diptyque.