Demi Lovato Just Chopped Her Hair Into A Blunt Lob (& It Looks SO Good)
Chelsea Lauren/Shutterstock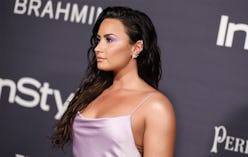 It's the difficult decision almost every woman is faced with come spring: color or cut? According to Demi Lovato and the blunt lob she just debuted, you shouldn't have to choose. Let the singer show you how a total hair transformation is done.
On Thurs., Lovato flaunted her pretty new lob on her Instagram story, saying, "New hair, who dis?" The before and after photos she posted show that Lovato went several shades darker and chopped more than a few inches off her hair.
In the original picture, the singer's chestnut hair cascades down her back (without extensions, she made sure to point out), but afterward, Lovato stepped out of the salon seat with a blunt, shoulder-length haircut and new cool-brown (almost black, even) color.
You can see the final product even better in her selfie — no layering, just a side-swept blunt cut with the ends curled slightly inwards. The 26-year-old tagged her go-to colorist, Alchemist Amber (the one who took Julianne Hough from blonde to redhead last year), from the celebrity-favorite Nine Zero One salon.
Although Lovato's latest makeover is a major one, the Disney veteran has actually been bouncing between long hair and bobs for years.
In 2017, she cut her long hair about 12 inches just in time to debut a wavy lob at the Nickelodeon Kids' Choice Awards. Lovato kept it growing throughout the year, then went even shorter — this time, a chin-grazing bob — in 2018.
It appears this is becoming a sort of annual ritual for the singer, albeit we can probably all agree that it's a healthy habit to adopt. Everyone wants to feel fresher and lighter in the spring and a bold hair transformation is one surefire way to do it.
Inspired by Lovato's new look? Recreate the singer's dark-brown lob with The Zoe Report's favorite products, ahead.
Shop The Products