Hailey Baldwin Got A Major Haircut (Spoiler: It's SO Short)
Invision/AP/Shutterstock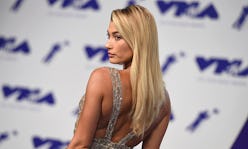 Everyone's getting their fresh cuts in before the holiday madness officially begins. First, it was Ariana Grande's lob, then Emmy Rossum and Emma Roberts' shortened looks, and now, it's Hailey Bieber's new bob. The model's chin-length style will have you running to the salon for a chop.
Bieber is known for sporting her signature medium-to-long blonde waves — the ones you may have seen on her Instagram story on Weds., when she posted a selfie on the set of a V Magazine shoot. Just one hour later, she debuted a dramatic new look.
Not long after marrying singer Justin Bieber in a secret ceremony this past Sept., the 22-year-old is switching up her style big time. She posted a photo of her new look on Wed. evening — a shaggy, chin-grazing bob — with the word "chopped." Wearing an oversized tee at home, Bieber's look was low-key — and her new hair was, too.
She wore it parted in the middle with the slightest wave, with a few subtle layers hanging around her face. This time, it's even shorter than the memorable pink, shoulder-length hair she wore to the 2018 Met Gala.
Bobs and lobs are quickly becoming the next big hair trend. In Nov., Ariana Grande cut her iconic long ponytail into a short, shoulder-grazing lob, then Emma Roberts chopped her signature red hair above the shoulder. Just a week before Bieber debuted her cut, Emmy Rossum showed off a new piecey, layered look on Instagram, too.
Perhaps Bieber is gearing up for her big wedding day, which, according to her Sept. interview with The Cut, will take place in 2019. Or, rather, maybe she was just craving a new look for winter like so many others. The season is notorious for change, after all. Miranda Kerr, Lucy Hale, and Sienna Miller have all made trips to the salon recently, too. While Kerr and Hale dyed their hair lighter (an unexpected move ahead of cold-weather season), Miller went darker.
The abundance of new celebrity hairstyles is all the proof you need that there's no better time than now to get a few inches taken off, and Bieber's latest makeover is the breeziest, freshest look to head into the new year with. So, copy the model (and everyone else in Hollywood, it seems) immediately and book yourself a seat at the salon to chop away the old and make way for something new.
Ahead, The Zoe Report's favorite products to style your new look with ease.