Why Sugar Is The Key Ingredient In Cuvée Beauty's New Scalp Scrub
Courtesy of Cuvée Beauty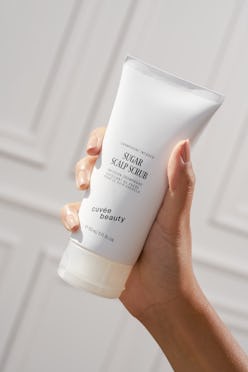 Recently, the beauty industry seems to have had an epiphany of sorts. All of a sudden over the past several months, the realization that your scalp deserves as much care and attention as the rest of your skin has become clearer than ever. Thus a wave of scalp treatments, from scrubs to super-hydrating milks and oils, have hit shelves to detox and deep condition from the roots down for healthier hair than you even thought possible. But as far as scrubs are concerned, not all are created equal — and Cuvée Beauty's new Sugar Scalp Scrub has landed to convince you to add a little sweetness to your scalp care regime.
Whether you frequently grapple with a dry, flaky scalp (it's especially common as seasons shift) or you just like to stay extremely up-to-date on what's new and now in beauty, you've likely had a scalp scrub or two in your shower. But did you know that the ingredients that go into said scrubs can vary significantly, and have a major affect on the type of results you'll see at your roots? Cult-fave beauty brand Cuvée, for one, favors sugar. And after seeing the champagne-infused line's new scrub, so will you.
Cuvée Beauty's new Sugar Scalp Scrub, $45 and up for grabs on the brand's site, chose to formulate the scrub with a whopping 56 percent of the naturally humectant crystal to gently exfoliate away dead skin and excess oils while also restoring essential moisture. As opposed to salt (which many other scrubs rely on), sugar crystals are not only more hydrating and gentler, but they also dissolve quickly and work better hand-in-hand with chemical exfoliants like salicylic and glycolic acid — both of which Cuvée Beauty has included in its hardworking scrub.
Together, the sugar and acids team up to exfoliate deeply on both physical and chemical levels, sweeping away not just those pesky flakes, but also product buildup and environmental pollution. Additionally, Cuvée Beauty's proprietary complex of ceramides, resveratrol, truffle extracts, platinum extracts and pea proteins ensure stronger strands. The result? Roots that are fresh and free to promote healthier new growth, and lengths that are hydrated and sealed to protect against breakage.
This sugar scrub also differs in its application. To provide ease of use, the brand formulated the Sugar Scalp Scrub to be mixed with equal parts shampoo in the palm of your hand, making it effortless to distribute across your scalp and massage into roots (no more gloopy, sticky scrub that stays in one section of your hair). Add more water as needed while exfoliating, and follow with conditioner after rinsing. Use up to twice a week or every other time you shampoo to reveal more vibrant, voluminous hair.
Scoop up Cuvée Beauty's fresh and innovative new scalp scrub below — it's bound to become a fan favorite.