Oribe Just Added 2 New Products To Its Serene Scalp Collection — & Yes, A Scrub Is Included
Courtesy of Oribe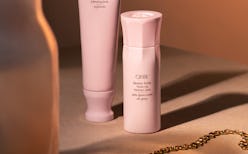 What if you could scrub and spritz your way to thicker, fuller hair? If this idea sounds way too good to be true, then you probably haven't yet met Oribe's new Serene Scalp Exfoliating Scrub and Thickening Treatment Spray. Unveiled this Sept. on Oribe's website, the luxury haircare brand's latest launch takes the guesswork out of rejuvenating your scalp and plumping up your tresses.
"Because scalp health is a growing concern among today's consumers we thought it was important to develop a holistic approach to treating issues such as hair loss, hair thinning, and dry scalp," reads a quote by Oribe's Senior Vice President of Product Development, Jessica Friedman, in a press email.
As you may notice, these new additions expand Oribe's Serene Scalp collection, which previously offered three flake-reducing products: the Serene Scalp Anti-Dandruff Shampoo, Soothing Leave-On Treatment, and Balancing Conditioner. "Inspired by skincare technology, our Serene Scalp family provides a step-by-step hair regimen that includes a cleanser, moisturizer, exfoliator, and targeted treatments for overall hair health," Friedman continued. And the new $52 Exfoliating Scrub is similar to a skincare product you may already have in your bathroom cabinet; it uses AHAs and fruit extracts to deeply cleanse your hair.
However, while it can be used for a variety of reasons (including clearing out buildup), both new products together specifically target hair thinning — working in tandem to create a happy, healthy environment for your hair to grow.
After the scrub exfoliates away any oil, impurities, and leftover product, the $76 Serene Scalp Thickening Treatment Spray will begin transforming your tresses. Formulated with biotin, niacinamide, and a variety of natural extracts, the spray works on two fronts: A polymer instantly thickens your hair, while the other ingredients soak in to create long-term density. Which it does, according to a 90-day study on the spray; 86 percent of users said their hair looked thicker after using it consistently for two months.
To put Oribe's newest releases to the test, order them through the brand's website, or pick them up at your local Oribe salon and at select retailers. Ahead, Oribe's new Serene Scalp Exfoliating Scrub and Thickening Treatment Spray.