The Unexpected Dish That'll Be A Crowd-Pleaser For Christmas Dinner
Shutterstock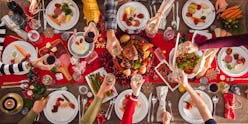 While Thanksgiving dinner has its usual suspects — turkey, macaroni and cheese, pumpkin pie, green bean casserole — Christmas can be a bit trickier. Yes, dishes like baked ham and cranberry sauce are often a given, but what everyone classifies as a traditional meal can vary. So, if you're still scratching your head on crowd-pleasing Christmas dinner ideas that'll be a hit no matter where you spend the holiday, read on.
The thing about Christmas meals (or any holiday meal for that matter) is that it's often a mixed bag of taste buds, preferences, and, sometimes, dietary restrictions. And while selecting a meal or side dish that's equal parts festive, seasonal, and universally delicious can be a challenge — but not impossible. If you do your research and consult with the right individuals, you can definitely knock the holiday dinner game out of the park.
That said, who better to turn to for a delicious and unique culinary masterpiece than a professional chef? After all, these wizards have spent their lives testing and perfecting recipes for the masses and definitely have learned a thing or two about cooking for a crowd. Ahead, six recipes recommended by top chefs that are sure to make this year's Christmas dinner a memorable one. Happy holidays.
Lamb Bacon
"For anyone looking to make a delicious dish at home for the holidays, I recommend making lamb bacon for a few reasons. This is a really interesting cut of meat that's flavorful and really not used often. It's a great alternative protein to your classic holiday ham dinner and a beautiful showcase dish!
When making it at home I suggest using a cut that is good for braising like a lamb shank or lamb neck. It's important to cook it low and slow and a long period of time. At Castaway we add in some fun Moroccan spices and flavors, which is a great addition to this dish. The whole thing is lacquered in honey and I suggest topping it off with pomegranate seeds to balance the different flavors within the dish." — Chef Perry Pollaci, Castaway in Burbank, California
Goat Cheese Cheesecake
"Who doesn't love cheesecake? This goat cheese variation is everything a cheesecake should be – dense-yet-fluffy, a slight tang but still sweet, light but fulfilling. The best part is you can top it with a seasonal berry compote of your choosing — like cranberries for the holidays." — Chef Fred Piehl, The Smoking Goat, The Smoking Goat | San Diego, CA
Recipe (provided by Chef Fred Piehl):
Crust
7 oz. graham crackers (crushed)
2 oz. sugar
2 oz. butter (melted)
Filling
2 lbs. cream cheese
1/2 lb. goat cheese
4 eggs
1 cup sugar
1 tsp. vanilla extract
Preheat oven to 350 degrees
Combine graham crackers, sugar and butter in a 9" pie pan.
Bake for 5 minutes.
Remove and let cool
Filling
Preheat oven to 325 degrees
Combine cream cheese, goat cheese, eggs, sugar, and vanilla extract
Fill pie crust and place on lower rack of oven
Place a pan of water on lower rack of oven
Bake for 1 hour
Braised Red Cabbage
"This is a dish my grandmother used to make when I was a child and something I still make for my family for dinner every Christmas Eve. It's simple and savory, and a lighter option than a lot of the other dishes you'll find on your table over the holidays. Feel free to make it your own by adding in your favorite peppers (like jalapeños if you love spice) or even another vegetable like Brussels sprouts." — Chef Fred Piehl, The Smoking Goat | San Diego, CA
Recipe (provided by Chef Fred Piehl):
Ingredients
1 large red cabbage, sliced
1 onion, sliced thin
2 small Granny Smith apples, diced
1/2 lbs. bacon, chopped
1 cup apple cider vinegar
1 cup sugar
1 cup water
Salt and pepper to taste
Brown the bacon in a pan over medium heat
Add onions to pan, sweating them in bacon
Add sliced cabbage, stirring on medium heat until wilted
Add diced apples while continuing to stir
Add apple cider vinegar, water, and sugar
Stir on medium low heat for approximately 25 minutes or until cabbage is soft
Add salt and pepper to taste
Lomo Saltado
"Lomo saltado is an easy, yet impressive dish for a home cook to make — it's one of the recipes that both are both at Rosaliné and in my cookbook Fire of Peru because it's a big fan favorite. It's a juicy dish filled with steak, onions, potatoes, tomatoes and, of course, an egg. The most important thing to remember when making this dish is to prep all of your ingredients first and have them sitting in individual bowls so they are ready to just toss in. This dish cooks very quickly so prepping in advance is a must. " — Chef Ricardo Zarate, Rosaliné | West Hollywood, CA
Warm Rosemary Butternut Squash Dip
"One of the dishes that I always recommend for Christmas gatherings is our 'I am Community' warm rosemary butternut squash dip. It is easy to prepare. In fact, it can be prepared a day in advance and cooked when you're ready to serve. It is a great antipasto or appetizer that nobody will believe is plant-based. It's that good!
"I am Community" is a great holiday dish because it makes full use of seasonal produce like butternut squash and rosemary, and is the perfect warming, comfort food that brings people together at the dinner table. Once you have all your ingredients, you'll need to mix them well, then portion into 8 oz ceramic ramekins. Afterwards, refrigerate for ½ hour, then drizzle with 1 tsp olive oil and bake at 400 degrees for 15-20 minutes." — Executive Chef Dreux Ellis, Café Gratitude I Beverly Hills, CA
Recipe (Provided by Chef Dreux Ellis):
Blend together in a Vitamix:
¾ cup raw cashews
¾ cup almond milk
3 tbsp. lemon juice
2 cloves garlic cloves
¾ tsp. salt
1/8 tsp. yellow mustard seed
¼ tsp. black pepper, ground
Transfer the cream into a bowl and add:
2 cups butternut squash purée (steam 2 cups of butternut squash until soft then mash)
½ tsp Rosemary, fine-chopped
Transfer to a bowl and add:
1 cups roasted butternut squash, cubed
¾ cups radicchio, shredded
2 tbsp. red onion, finely chopped
Baked Potato Mash
"I love making a baked potato mash for the holidays. It is a great blend of tradition, since simple mashed potatoes are a staple for the holidays, but these provide an elevated and modified version that still surprises any guest enjoying them. It manages to strike a balance, where guests aren't disappointed they won't be able to enjoy a mashed potato, and those who are tired of the traditional mashed potatoes are happy to see a new variation. It's a win-win for everyone — even for the person making them, since they are so easy to make. Whatever I like on my baked potato, I put in these mashed potatoes.
I start by baking potatoes, then allow them to cool just enough to handle, scoop them out of their skins and mix with all of the items I like — sour cream (or my favorite: crème fraiche), grated aged white cheddar, scallions, crispy bacon, and, of course, butter. The only other item I add is heavy cream to create the right consistency. I mash them by hand with a whisk or potato masher so they stay a little chunky, which adds more of a rustic feel. I usually prepare one potato per person." Executive Chef Luis Cuadra, District | Los Angeles