China Glaze's New Nail Polish Collection Proves A Shimmery Nude Should Be Your Go-To Summer Shade
ImaxTree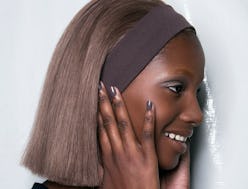 If theres one color rule that's currently being disproven, it's the idea that neutrals are boring. Now, the style set knows that head-to-toe neutrals can be just as statement-making as a boldly-colored look — so why shouldn't the same be said for your nails? Nude lacquers are nice when you need to look polished and put-together, but with China Glaze's Body & Sol collection they can also take you into sexy, look-at-me territory thanks to a dose of metallic shimmer and sparkle, in shades that compliment just about every skin tone. Say hello to your new go-to polish for the summer.
So far this season, nail trends have been all over the place. And that's a good thing, too, because it means there's been a launch to achieve just about any nail look. Do you tend to choose muted pastel shades? There's been no shortage of pretty pastel nail polishes to pick. Love hot, vivid hues that change color when they're exposed to heat? There's a collection for that.
But what if nude nails that give you a subtly sexy vibe is more your style? Luckily, nail lacquer brand China Glaze was looking out for you, and just launched its Summer 2019 collection, Body & Sol, that's filled with sultry summer-ready nude shades to satisfy your craving for the barely-there look.
The fun thing about the collection's eight nude shades, $6.79 each, is that they take things up a notch with a major dose of notice-me sparkle and shine — so even though you're opting for a shade that blends with your natural skin tone, there's no way your manicure will look boring. Basically, they're guaranteed to give you a goddess-like glow, even if you haven't yet scored some vitamin D this season (or if it's been awhile since you applied your at-home self tanner).
The Body & Sol shades range from fair, peachy-nude polish colors like Beach Buff, which mimics the color of a tropical, sandy beach, to deep, rich bronze tones like Send Hues, a sultry chocolate shade. All eight colors shimmer and glisten when they catch the light, so they're ideal for the hot days you'll have soaking in the sun and warm nights spent sitting aside a bonfire. Choose the color closest to your own skin tone for a sleek effect, or opt for a warm contrasting color to create more of a statement.
Keep scrolling to shop all eight polishes, below — and don't be surprised if everyone starts asking you when you got back from the beach, because these sand-and-sun summer shades can certainly have that effect.