China Glaze's Halloween Collection Has Officially Dropped & It's Surprisingly Versatile
Joern Pollex/Getty Images Entertainment/Getty Images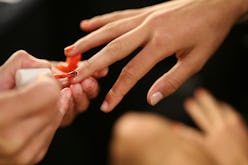 Some people are filled with absolute glee at the mere mention of Halloween. Others could do without the day that admittedly doesn't have quite as much appeal as it did during childhood. A sugar crash after eating tons of candy? No thanks. Whichever camp you fall into, there's still no doubt that the holiday presents an opportunity to have a little fun with your beauty routine, especially when it comes to your manicures. And China Glaze's Halloween nail polish collection serves six chic shades to help you get into the spirit — and keep your nails looking current and cool long after the costumes and spooky decorations are put away.
If you don't plan on dressing up in a head-to-toe look for Halloween but you can't dream of passing up the holiday altogether, an incredibly easy way to still feel like you're celebrating is with a chic, and seasonally-appropriate nail look. But the fact remains that Halloween is just one day, so it's sensible to choose a manicure that'll still make sense well into November. That's why you'd do well to choose one of fan-favorite nail brand China Glaze's new To Catch A Color Halloween 2019 polishes, which offer up six metallic, shimmer, and glitter shades that'll seamlessly make the transition from spooky to stylish.
The To Catch A Color Halloween 2019 Collection by China Glaze is up for grabs at beauty retailers like Ulta, Sally Beauty, and JCPenney, with six colorful hues that have cheeky, Halloween-appropriate murder mystery-inspired names. The chip-resistant, seven-free polishes, $7.50 each, range in finish from metallic mica-infused to moody glitter topcoats to iridescent shimmer shades — guaranteeing that whichever color you choose, the resulting manicure will be anything but boring. But the polish range also means that your nails will be completely on-trend, even after the 31st of October.
Choose from metallic mica-flecked shades like a glowing amber-tinged orange Pathological Liar (a less pumpkin-y shade than typical Halloween oranges) or rich amethyst purple Private Side-Eyed, both of which are colorful fall classics. Or, lean into shimmery polishes with jewel-tone emerald Green With Jealousy or the black-to-silver shift You've Got Blackmail, both of which present unexpected takes on the season's shimmer nail trend. Transform your favorite polish with the collection's glitter top coats, a vibrant orange-black called Get Off My Cold Case and a deep ruby red and black Arrest In Peace. Try a coat over a neutral or nude nail for a toned-down statement.
Skip the Jack-o-lantern or skeleton nails this season and go for a manicure that'll stay stylish post-All Hallows' Eve with China Glaze's new drop. Shop it from Ulta, below.