Kendall Jenner's Head-To-Toe Leather Proves 'The Matrix' Will Be A Major Muse Again This Winter
Anthony Harvey/Shutterstock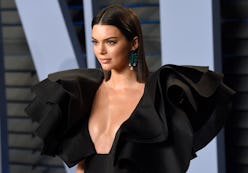 The Matrix has had a major impact on fashion over the past few seasons (hence the ultra-skinny Agent Smith sunglasses everyone seems to be wearing). The Hadid sisters brought long trench coats and all-patent-everything onto the scene in 2018. Now, Kendall Jenner's black leather outfit is proof that the sci-fi aesthetic is gearing up for another season.
You must remember Bella Hadid's parade of all-black leather bodysuits, floor-sweeping nylon trenches, and shin-high lace-up heels last year. Even her Met Gala gown was oozing with influence from the 1999 film.
Perhaps it's purely coincidence that today's eyewear trends, trench coats, and vinyl obsession are all rooted in science fiction, but there's no denying the resemblance between the costumes in this 20-year-old film and the recent looks to adorn Balenciaga, Alexander Wang, Vetements, and Balmain's runways.
Between Neo's chunky boots, Morpheus' full-length coats, and Trinity's slicked-back bun, The Matrix is shaping up to be verifiable foreshadowing of modern-day fashion. Kendall Jenner's latest all-black leather outfit is the latest addition to the sci-fi style file.
The model spent her Fri. night at The Nice Guy, a celebrity-favorite hangout in Los Angeles, with sisters Kylie and Kourtney. She sported a Rosetta Getty bandeau top and corresponding flared pants with a Prada shoulder bag and braids in her hair.
The outfit was as futuristic as that leather trench she wore with a pair of tiny sunglasses at the airport earlier in the year. The demise of warm weather means ankle-brimming trenches and heftier fabrics are bound to make a resurgence. Jenner is merely kicking it off early with her latest party look.
It hasn't been a week yet since Variety announced that a Matrix 4 is officially in the works, so you can expect to see a lot more where this cosplay-inspired fashion is coming from. After folks channel their favorite leather-wearing rebel for Halloween, they'll inevitably incorporate their costumes into the everyday rotation because nothing says winter 2019 better than rubber and PVC.
Matrix-inspired pieces to work into your wardrobe, ahead.
Shop The Look