Charlize Theron Just Debuted A New Haircut & It's SO Chic
Alberto E. Rodriguez/Getty Images Entertainment/Getty Images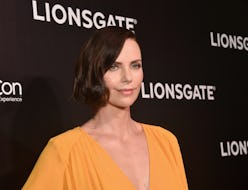 Summer 2019 is turning out to be the season of hair extremes. Short styles haven't been this popular since Twiggy, Jackie O, and Audrey dominated the scene. The latest to join the ever-growing asymmetrical pixie cut gang is Charlize Theron.
Now that summer is finally in full swing, every girl is chopping off the dead ends like they're shedding their winter skins. Bobs and lobs have completely taken over, but there's another, more unexpected style that's also on the rise: the asymmetrical "mom" cut.
Remember the choppy, sideswept undercut that used to be cool in the '90s? A cross between a pixie and a bowl cut, you could call it. Well, it's back with a vengeance in 2019 and, no, it's not meant to be ironic.
Back in Sept., Emilia Clarke posted an Instagram photo of a major hair transformation, saying that she told her hairstylist, Jenny Cho, "I'm thinking when Gwyneth and Brad had the same haircut."
Since then, the Game of Thrones actor has been rocking one of those choppy short cuts that probably reminds you of your childhood — the one with unkempt bangs hanging in front of the face.
Now, Charlize Theron is debuting a similar cut, albeit styled slightly more tidily.
Theron, who's been wearing her hair in a chestnut-colored, chin-grazing bob for a while now, was just spotted in London with a cropped pixie cut. The actor and her daughter attended a Giffords Circus media night at Chiswick House and Gardens on Thurs. Her hair was cut short on one side and left long enough to tuck behind an ear on the other.
In fact, it's super similar to the asymmetric borderline-pixie bob Gabrielle Union just got. Earlier in the month, the former Bring It On actor exchanged her waist-length braids for a choppy chin-length bob, which she styles with a deep part like Clarke and, now, Theron.
They've all just joined the camp led by longtime pixie enthusiasts Katy Perry, Cara Delevingne, Kristen Stewart, and Ruby Rose. Now, the asymmetric pixie is moving out of only-for-the-daring territory and more into the norm.
You're definitely going to see more of this iconic "mom" cut as summer goes on, so maybe it's time to give into those pixie cravings once and for all (before everyone else does). When your coworkers start asking the inevitable questions, you'll at least have a stockpile of stylish celebs to back you up.