Charlize Theron Got A Super-Dramatic Hair Makeover For The Oscars
Phillip Faraone/Getty Images Entertainment/Getty Images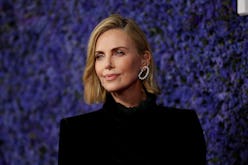 All your favorite blondes went brunette for Sun.'s awards show ... or at least two of them did. Immediately after Emilia Clarke showed up to the red carpet with a darker bob, Charlize Theron debuted brown hair at the 2019 Oscars, too. Once you see the Mad Max actor's latest look, you might even forget she used to be blonde.
A lot has happened since Theron was photographed at Berlin's Cinema For Peace International Committee & Nominee Dinner two weeks ago. Namely, she's traded in her signature blonde hair for a much darker shade. The chestnut bob she just debuted at the 91st Annual Academy Awards is drastically different from the side-swept waves she was last seen with, but it could actually be her best look yet.
It's almost impossible to picture the actor without her usual beachy blonde hair. Until now, that is, because she looks so natural in her new mahogany hue. The Tully actor arrived on the Oscars red carpet with a slightly wavy dark-brown bob pulled back behind one ear.
And as if it didn't already fit Theron's style perfectly, the fresh dye job suited her bright-red lip and that powder-blue gown so effortlessly well, too.
The actor opted for a slim-fitting Dior gown with long sleeves rolled at the wrist, puffy shoulders, and an open back. Her mock-neck was adorned with Bulgari diamonds — including a sparkling serpent necklace — which matched a pair of cuffs on either wrist.
You couldn't have missed her dazzling earrings, either. Also by Bulgari, the jewels were more colorful than her other accessories, featuring enormous emerald and royal-blue gemstones. They peeked out from her sleek down-'do, complementing her bold red lip.
Theron hasn't gone this dark with her hair color perhaps since her Æon Flux days in 2005. The latest look is almost as drastic as her former sci-fi character's, but not quite. According to an Instagram photo her makeup artist, Kate Lee, posted on Sun., celebrity hairstylist Adir Abergel (whose client roster also includes Kristen Stewart and Reese Witherspoon) is responsible for the makeover.
He posted a photo of the actor, too, saying, "changing your hair is the best way to transform yourself." So, are you inspired yet?