Busy Philipps Made This $39 Sweater Look So Expensive — Here's How
Ryan Miller/Shutterstock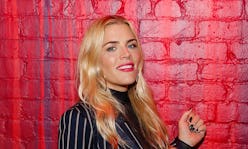 Between award shows, premieres, and avoiding the flashing lights of the paparazzi, the celebrity lifestyle often seems far from relatable. That's why fans get extra excited when a big-time TV personality wears a radically affordable wardrobe staple. Busy Philipps' pink turtleneck sweater may be one of her simplest pieces yet, but her distinct styling choices took her look to the next level.
On Feb. 1, Philipps appeared on Late Night with Seth Meyers wearing an outfit that was right in line with her typical aesthetic (read: bright colors and bold patterns). The Busy Tonight host took to Instagram before the show to show off her latest ensemble, created in collaboration with celebrity stylist, Karla Welch.
The 39-year-old sported a cropped turtleneck by Aerie in bubblegum pink, a style that she likely had altered from its original, oversized silhouette. Philipps dressed up the cold-weather essential with a whimsically printed skirt by New Delhi-based designer, Manish Arora, which featured playful imagery, a flouncy, mid-length hem, and soft pleats.
To round out the casual yet refined look, Philipps accessorized with a pair of neon-pink pumps by Stuart Weitzman and a swipe of matching lipstick. Her blonde hair, which still shows remnants of a pink dye job from a few weeks back, was pulled up into a high-ponytail to show off a pair of drop earrings.
Although it was the most understated part of her entire look, Philipp's affordable turtleneck stole the show. Celebrities donning price-conscious pieces tend to make headlines, especially when they collaborate with accessible retailers for boundary-pushing campaigns. Philipps, along with other notable names like Samira Wiley, Iskra Lawrence, and Jameela Jamil are all a part of #AerieReal, a movement designed to inspire young women to claim their inner power.
As Philipps' look proves, building a capsule wardrobe full of staples doesn't have to be costly — or boring. In fact, developing a collection of affordable sweaters can present styling opportunities you may have never even thought of.
If you're sick of wearing your favorite knit with jeans and booties, take a page from Philipps' book and try a printed midi skirt, colorful heels, and a sleek, high pony. Ahead, shop the actor's wallet-friendly staple along with The Zoe Report's handpicked selection of sweaters under $100.
Shop The Look