Under-$100 Cashmere Sweaters Do Exist — And These Are The Best Ones
Everlane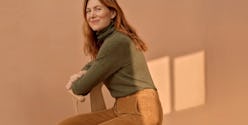 A cozy cashmere sweater is a foundational piece of almost every woman's winter uniform. And though it's traditionally considered a big-ticket item, in the past few years direct-to-consumer brands like Everlane and Naadam have designed cashmere sweaters for under $100 that still feel luxe. There will always be a place (and a temperature) for heavier knits, but this simple everyday piece is worth owning — probably in multiples. So what makes these affordable sweaters worth a buy?
"Not all cashmere is created equal," explains Matt Scanlan, CEO and Co-Founder of Naadam, an ethically sourced knitwear line. He notes that cashmere is known for its silky soft feel, but it's important to be careful when purchasing. "While softness is great, it doesn't always equal quality," he says, adding that shoppers should research the yarn used when picking out a new sweater. To keep prices lower, brands will sometimes purchase lower-quality yarns and use heavy detergents to create a softer feel. But, often these heavily manufactured knits won't last as long as ones that skip the chemicals.
When it's time to pick up an affordable sweater (and you want one that will last) look for Grade A cashmere and high-ply yarn, which tends to be spun at a reputable mill. If you find that neither the ply nor grade is listed, pull on the knit piece. Based on how easily it loses its shape, you'll have a better sense of the item's quality. Be warned: Anything that feels loose, flimsy, and thin is a sweater you'll want to steer away from.
Naadam is able to maintain high quality at a lower price point by going directly to manufacturers. "Our materials cost about half as much as our competitors because of our direct sourcing model." says Scanlan. "The lower material cost lets us focus on spinning quality yarns and engineering knitwear to reach the perfect quality for the best price." Still, affordable cashmere has its limits, the weight of the knit, the design, and how much cashmere is actually being used all contribute to higher prices. Typically, under-$100 styles will be simple pullovers — a solid basic to add to your winter wardrobe.
By now, you're fully briefed on how to pick out the best under-$100 cashmere out there. And at whatever price point your searching, a few tricks to help you ensure that it's a purchase that will last. Now as for how to wear them; these sweaters make for the ideal lightweight layering piece. Mix and match crew and turtlenecks in contrasting colors. Then, style with jeans or dress things up with a midi skirt and tights. If you want to play with textures, try a cozy cashmere turtleneck in a classic shade with a sleek pair of fitted leather trousers, a plaid blazer and slingback pumps.
No matter if you're looking to experiment with a colorful sweater at a cost-efficient price or need a reliable, stylish cashmere option that won't break down over time, below you'll find four brands making affordable cashmere sweaters that TZR's editors love, all under $100.
Naadam
Everlane
J.Crew
Uniqlo