7 Luxe Carry-On Essentials To Help You Survive Your Holiday Travels
Net-A-Porter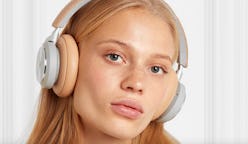 The first step before departing on a trip is to pack, and with the holiday season rolling in, you may be loading up your suitcase more often than not. Love or hate it, if done right, this pre-travel task can be an easy way to start your vacation off on a high note. The key is to make your travel experience as close to first class as you can by assembling what will become your go-to arsenal of carry-on travel essentials — and it's easier than you'd think.
The hustle and bustle of the airport and the uncomfortable nature of a plane can all contribute to a less-than-pleasurable beginning to your trip. Securing items to give you the luxury travel vibe (without paying hefty airfare) is a surefire way to upgrade your overall in-flight experience. Begin by looking for items that can easily be tucked away into your carry-on when not in use, but will provide the comfort you seek when you're 35,000 feet in the air.
No matter how long or short your trip is, there's nothing like being able to catch some Z's while flying. A must-have item to help you in securing some shut-eye is an eye mask. Toss your old cotton styles and treat your skin to silk this season with the Slipsilk Pure Silk Sleep Mask for $50. Flights can leave your skin feeling dehydrated, but the Mulberry silk absorbs less moisture and will allow your skin to breathe, leaving you fresh-faced for landing.
For the ultimate sleep, pair your eye mask with a silk pillowcase. For only $59, slide your pillow into a silk case from Brooklinen to bring a bit of home on your travels. This soft case will not only provide for a more restful flight, but will keep your face feeling cool and your hair smooth.
Airplanes are notoriously chilly, which can lead you to a lot of shifting around in your seat or digging through your luggage for anything to keep you warm. This year, be prepared and have a cozy layer within easy reach. A cashmere wrap that can double as a blanket, like this one from Naked Cashmere for $250, is a piece that'll become your travel companion for domestic to international jaunts. Drape this luxe style over your shoulders as you head through the terminal for an effortless airport look and wrap it around you as you prepare for takeoff.
If you haven't blocked out the unpredictable noise of an airplane, you surely won't be feeling relaxed. A sleek pair of headphones is a necessary purchase to ensure you're able to sleep soundly or listen to music without interruption. Bang & Olufsen's H9i will not only take care of the sound, but do the job in style. The leather trimmed headphones have built-in memory foam pads with control buttons allowing you to answer a call, change a song, or turn up the volume with ease. These features make this style especially handy when moving through the airport. Plus, the wireless design means no more tangled cords in your carry-on.
Before you head to the airport, up your travel game by shopping carry-on essentials that are sure make your seat mates jealous and help you actually enjoy those crowded flights.