Boyfriend By Kate Walsh Isn't Your Typical Celebrity Perfume — Here's Why
@boyfriendperfume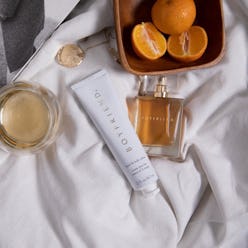 Don't let the name fool you: Boyfriend Perfume by Kate Walsh isn't boyish. Or girlish. Or unisex, for that matter. According to founder Kate Walsh — yes, that Kate Walsh, the fiery redhead from Grey's Anatomy and Private Practice — the scent bends and blurs gender lines in a way that hasn't really been done before. "I think it's a cozy, sexy, safe, yummy feel," Walsh tells The Zoe Report.
If you're wondering what, exactly, that string of words means, imagine the smell of your significant other's favorite sweatshirt after the two of you have spent hours together — the combination of your scent and theirs; the cologne, the perfume, the pheromones. "I was inspired by my own real-life breakup with my boyfriend," Walsh explains of Boyfriend's blend of dark plum and patchouli. "I missed his cologne." In attempting to bottle up that scent memory, she realized it wasn't about simply mixing "traditionally masculine" notes (like woody pines) with "traditionally feminine" ones (like florals). The scent she was chasing was "the co-mingling of not just masculine and feminine, but of our own body oils," she says. "So how do you make that?"
The answer, for most stars of Walsh's caliber, would be to sign an endorsement deal with an established brand. "The fragrance space is so oversaturated — pun intended — and there were people that were more famous than me doing it," Walsh says. "At the time, Sarah Jessica Parker had her fragrance out." Walsh didn't necessarily want to be "the face" of a perfume, though, and she did want creative control. "So I made it myself," she says. "It was an experiment."
Walsh self-funded the project and teamed up with an award-winning perfumer to put together Boyfriend's unique scent profile: "Juicy plum notes and night blooming jasmine at the top," she says, layered over "amber, tears of benzoin, and a little bit of musk." (Vegan musk, Walsh is eager to note.) "For people who don't know what tears of benzoin is, because I didn't before, it's basically like a higher-end vanilla," the actress-slash-founder tells TZR. "It's more sophisticated."
The overall effect captures "that feeling when you wake up in the morning without anxiety — the feeling of, 'I'm safe and loved and cozy,' whether there's somebody in the picture or not," Walsh explains. (Honestly, who wouldn't want to spritz on that feeling every morning?)
Boyfriend first launched in 2009. "I put everything into it," Walsh says. "I was working on Private Practice at the time and shooting 60 to 70 hours a week, and making this brand — I burned the candle at both ends, cracked it in half, and lit both of those ends on fire." Despite a dedicated fan base, Walsh decided to shutter the brand after a few "red lights and roadblocks." But fans were not having it. Boyfriend devotees basically pressured Walsh into a comeback, she recalls with a laugh. "To relaunch the brand a year and a half ago was so exciting for me, because now I have the support and infrastructure I always needed, so I can focus on creative."
Her renewed attention to detail resulted in new iterations of the scent; in addition to the classic eau de parfum, there's now a "pulse point" roller as well as a hand and body cream. "I like to layer them," Walsh says. "The whole idea is that they're subtle but potent enough that it's long lasting — you can layer them without feeling like the lady in the elevator that everyone's like, 'Wow,'" she jokes.
Whichever version of the perfume calls to you (no shame in using all three), the founder suggests incorporating some sort scent ritual into your morning. "I see it as part of my beauty routine and my final accessory," she says. "If I forget to put on my fragrance, I feel like I'm not done. It's like not having your lipstick on."
For those who want to experience the scent in person, Boyfriend has set up a pop up shop at The Grove in Los Angeles this summer, and has plans to roll out to retail stores in the fall. Until then, shop the scent of "cozy, sexy love" below.
Shop Boyfriend Perfume