Why Tom Ford's Latest Fragrance Will Be Your New Go-To Scent For Transitional Weather
Courtesy of Tom Ford Beauty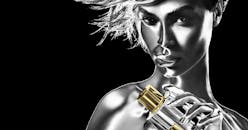 You're still in the thick of your summer social calendar, with plenty more pool parties and backyard barbecues to attend. But before you know it the seasons will inevitably start to change. And as you dip into your transitional wardrobe, you'll also want to switch up your fragrance to something more fitting for the shift from summer to fall. After all, a simple citrus-soaked scent simply won't do for days that start out hot yet turn to crisp, cool evenings after the sun sets. Tom Ford's new Métallique fragrance makes its presence known with a multi-layered aroma that's impossible to ignore — so it's exactly what you'll want to make a statement through the end of this season (and well into the next).
Sometimes, the time in between seasons can get a bad rap. People tend to complain about how to dress for days that fluctuate in temperature (but transitional dressing only sounds scary, trust), skin care can get tricky thanks to shifting climates, and even your go-to fragrance suddenly feels out of place. But really, the weeks of flux that lie between two seasons should be appreciated for what they are: A time to experiment with a new vibe, and to embrace the complexity of a period that combines the best of two different times of year. Tom Ford's new fragrance will help you do just that.
Tom Ford Métallique, now available on the luxe brand's site for $150, marks an entirely different kind of eau de parfum for its extensive signature range. "This scent is more specific and feminine than a lot of our fragrances," Tom Ford said according to a report by Women's Wear Daily. "I think of it as a more feminine expression of my taste." In fact, it's the first floral aldehyde fragrance created by Tom Ford, which means it'll feel a lot more effervescent and scintillating than the brand's primarily rich, almost savory scents (like the popular Ombré Leather and Black Orchid members of the signature line).
Métallique, personified by model Joan Smalls in the campaign video, celebrates the mesmerizing, bold qualities of femininity, and the willful strength that's specific to the modern woman. The opening notes offer up the high-shine brilliance of aldehydes, which act as light-as-air armor that sparkles even more with the addition of crisp vert de bergamote and a pop of pink peppercorn. It's like slipping into a sophisticated, elegantly embroidered dress that inspires the kind of confidence you need to take on the day.
The addictive aldehyde start envelopes a much more sensual core of delicately layered white flowers, creating a contrast that shifts from cool to lush. Aubepine, an ancestor of the rose that's more complex and piquant, blends with sweet muguet and intoxicating nectar of heliotrope that's both light and powdery and powerfully rich. The closing notes bring a layer of warmth — which is ideal for a scent that'll take you into crisp fall — thanks to ambrette seed, balsam, vanilla, and creamy sandalwood. It's a finish that brings a comforting effect to the bold, metallic start of this multi-toned fragrance.
The smooth, silver bottle with gold-toned label and cap echo the precious metal theme of Métallique, and impart a luxe look that'll elevate your vanity. Plus, with an appearance that's totally different from the rest of Tom Ford's perfumes, it'll be the standout that'll help you make a statement during the shift from summer to autumn. Shop it below from Tom Ford's site.