Bella Hadid's Dress At The 2019 MTV Video Music Awards Looked Entirely Different On The Runway
Efren Landaos/SOPA Images/Shutterstock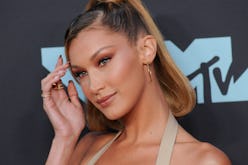 Bella Hadid does not simply adhere to the trends du jour. Nay, this model is a road-less-traveled kind of girl, a trailblazer in the fashion world. So, when everyone opted for bold color on the 2019 Video Music Awards red carpet, Bella Hadid's dress stood out in another way.
No bright colors or flamboyant prints were needed to put this 22-year-old on every VMAs best-dressed list. Let's be honest, she would have made headlines even if she had arrived in her usual crop top and jeans; nevertheless, that torso-baring dress earned its fame.
The Hadid sisters coordinated outfits — a welcome rarity — both sporting some combination of nudes and neutral hues. Gigi tucked her Are You Am I corset top into a pair of flashy metallic trousers by Tom Ford while Bella went the opposite direction in a skin-tight dress from Fashion East's Fall 2019 Ready-to-Wear collection by Charlotte Knowles.
If it weren't for the suspender-style straps that ran vertically down the dress, one would have considered it a two-piece set. The pinkish-nude midi, which featured a light-yellow floral print, was divided into a bandeau-style top and a ruched pencil skirt, which is definitely not how it debuted on the runway back in Feb.
The original Fashion East piece boasted more of a traditional corset shape extending slightly past the hips (i.e. no belly button exposure). It was paired with a sheer skirt that looked similar to Hadid's, but was a solid caramel color rather than a continuation of the botanical print.
Hadid eschewed the original accentuated cups on the chest — a feature that she's been partial to in the past — for a more streamlined design and, of course, cut out the entire middle to bare some skin. She paired the bespoke dress with a silver Jimmy Choo clutch and PVC heels by Gianvito Rossi, sporting that high ponytail she's so well known for.
Besides the model sisters, most other attendees opted for bright hues as a last-ditch effort to celebrate summer before Labor Day. Queen Latifah, for instance, wore tangerine from head to toe, while Keke Palmer went with a bright-yellow gown. Taylor Swift wore an array of colors in her printed Versace blazer and Hailee Steinfeld was full-on red.
Gigi and Bella's outfits might not have been the brightest, but they're proof that bold color isn't the only way to stand out in a crowd. Nudes can make a statement, too.