This Bella Hadid-Approved Hairstyle Will Make Your Morning Routine So Seamless
Matt Baron/Shutterstock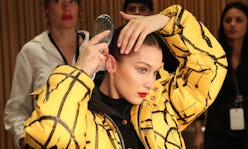 It's Mon. morning, rain is pattering outside your window, and you've pressed snooze so many times your iPhone has officially given up on you. With a jam-packed day ahead and just a few minutes to fly out the door, your plan to wash and blow dry this A.M. is about as tangible as those dreams you just awoke from. It happens to the best of us, but luckily, a sleek, Bella Hadid-inspired ponytail is a quick (and stylish) solution.
Aside from your double espresso and Uber app, this no-fuss hairstyle is the ultimate saving grace on a manic morning, or whenever you have no choice but to put off a shampoo for one more day. With the power to pull your look together in mere minutes, the polished updo says you're on trend and on-the-go, but nobody has to know you were also on a serious time crunch.
Hadid clearly knows this to be true, because the supermodel wears the hero hairstyle religiously. Whether she's dazzling in couture on the red carpet or wearing head-to-toe activewear out in Manhattan, the 22-year-old defers to the style time and again.
Aside from its ability to discipline flyaways and hide the fact that you temporarily forgot what shampoo is, it might actually make you look more awake, too. If you're low on sleep or your skin's feeling fatigued, the ultra-sleek style can actually have a tightening effect, making you look more alert and refreshed.
So, how does one achieve the sleek and simplistic style? "A lot of hairspray," Hadid revealed to Vogue. "And a lot of gel. I used to use my brother's mousse that he used on his hair, so I stole it and he's probably mad at me that I did that."
There you have it: Steal your family member's mousse and get on with it. Or, preserve those important relationships and shop The Zoe Report's four product picks for the foolproof style, below, and read our step-by-step styling instructions along the way.
Shop The Products