Gigi & Bella Hadid Just Wore Coordinating Monochrome Outfits & Totally Pulled It Off
Beretta/Sims/Shutterstock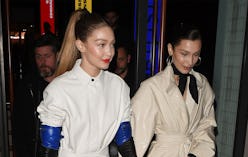 Yara Shahidi, Ashley Graham, and the rest of your favorite fashion girls just provided all the style inspo you'll ever need at Variety's Power of Women event. Among the best dressed on the red carpet were (of course) Bella and Gigi Hadid, who debuted coordinating outfits. The rare moment included two very different monochromatic looks that complemented each other in the best way.
Gigi Hadid was one of the honorees at Fri.'s annual luncheon, along with Bette Midler, Kacey Musgraves, and more. She took the stage to talk about the power of social media, her philanthropic work with UNICEF, and the importance of what she called the "gift of identity."
The supermodel reportedly held back tears as she gave her sisters Bella, Marielle, and Alana a shoutout, crediting them for being talented, hardworking, creative, and unapologetically themselves.
That sisterly love was a running theme throughout the day, especially with Gigi and Bella's coordinating outfits on prominent display. Standing next to each other on the red carpet, Bella's brown leather separates were a perfect contrast to Gigi's periwinkle satin jumpsuit.
It's no secret that the sisters have very different styles. Bella's typically sporting something dark, leathery, and super edgy, while Gigi is a fan of trend-forward athleisure and throwback looks.
Their latest outfits — both curated by celebrity stylist Mimi Cuttrell — represented the models' respective styles so perfectly. Bella's three-piece set included an impeccably tailored leather blazer and super-flared pants. The 22-year-old has plenty of chocolate-brown leather like this already hanging in her closet, so the monochromatic pick shouldn't come as a surprise.
Neither should Gigi's, seeing as she can never seem to get enough color in her life and, well, you know how much she loves a jumpsuit. The honoree's vibrant bluish-purple one piece is by Kate Middleton's favorite designer, Emilia Wickstead.
The couture number has a shape-enhancing cinched waist and straight-legged bottoms, but the real over-the-top feature is that flowing asymmetric cape.
Funnily enough, the sisters seemed to switch hairstyles for the event — Gigi sporting Bella's signature high ponytail and Bella in the topknot that Gigi so often wears. Despite their similar age and the fact that they're constantly together, the sisters almost never match or go out in corresponding ensembles.
Their latest coordinating looks at Variety's Power of Women in New York City was such a hit, though, maybe the two should synchronize their outfits more often.