Ashley Benson Ditched Blonde For This Classic Fall Hair Color
Erik Pendzich/Shutterstock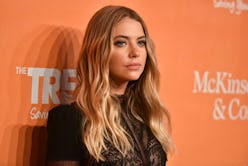 Another star has officially bid their signature hair color adieu for fall 2019. Pictured in a selfie on Oct. 6 with friend and fellow actor Remington Franklin, Ashley Benson's brown hair made waves on Instagram — prompting fans to chime in with just how amazing the celeb's freshly darkened locks look. For those unaware, this is a rather big leap for Benson: Typically speaking, the actor's hair has been some form of blonde since the days of Pretty Little Liars.
That said, there has been color experimentation along the way. Benson has tried out various lengths and shades in 2019 alone — ranging from a long, honey-hued blonde to a rooted ombré cut, finally landing on a striking clavicle-length lob courtesy of celebrity hairstylist Marc Mena. No matter the cut or color, though, Benson's signature middle-parted style has stayed the same, complete with bohemian waves big and small.
All of this change seemed to slowly pave the way to Benson's current look; which features the same at-the-shoulder lob, but this time, with the quintessential autumn hair color. Franklin himself also posted a picture of the duo on his own Instagram account, giving fans another view of just how short Benson's hair currently is.
Benson isn't the only star swapping out their blonde hair for a darker 'do. Recently, Bella Hadid's new black hair wowed on the Miu Miu Spring/Summer 2020 runway (and looked especially striking after the model's sun-kissed style from this summer). On the other hand, a ton of other celebs have tried out blonde for fall 2019, including Millie Bobby Brown, Dua Lipa, and Gabrielle Union.
Hey, it is a new season, after all — aka the perfect time to try out that hair color you've always had your eye on. If brunette is what you're after, keep on scrolling. While your local colorist can help you through the process — literally — there are a few products that'll make any new dye job stick around longer. Below, three hair care gems to keep a fresh brunette 'do locked in place.