Bella Hadid Just Changed Her Hair Color Again & Her Latest Look Is SO Chic
Dimitrios Kambouris/Getty Images Entertainment/Getty Images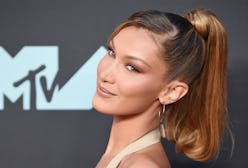 How do you celebrate the end of fashion month? If you were hopping from week to week, city to city, your calendar probably has a great big nap penned into your schedule. But if you're Bella Hadid, you're ending it with a bang. With the Miu Miu Spring/Summer 2020 show Oct. 1 offering plenty to discuss — the off-the-shoulder cardigans! the splattered leather! — beauty fans around the world undoubtedly keyed into Bella Hadid's new black hair, which debuted on the catwalk in a swept-up, retro updo.
And no, it's not the dark brunette shade Hadid is known for, and was seen rocking at the Balenciaga show Sept. 30. It is black. Better yet, it seems like the shade may be here to stay (following her notable foray into the world of blonde this summer). The model was spotted off the runway with the same pitch-black hair color — though for her off-duty look she styled it down, with a modern middle part and lots of natural-looking texture. If Hadid's new black hair is a Miu Miu-inspired wig, it's a very, very convincing one.
Even more intriguing is the length. While Hadid's hair was long enough to be coiffed up for Miu Miu, she appeared post-show with the freshly dark color — but this time, with the same chin-length bob she was spotted with in September. The mystery deepens.
Naturally, Hadid only amped up her new 'do's grungy aesthetic with her street style, pairing it with an oversized leather jacket, layers of necklaces, and a crimson jumpsuit absolutely perfect for autumn. However, she did sport an equally moody ensemble at the Miu Miu Spring/Summer 2020 show, as well: On the runway, Hadid wore a layered, monochromatic-gray look (and the comfortable-looking black flats fashionistas will be not-so-patiently waiting for all winter).
Pascal Le Segretain/Getty Images Entertainment/Getty Images
Pascal Le Segretain/Getty Images Entertainment/Getty Images
Interested in having a hair transformation for yourself? Judging by the amount of celebrities taking the plunge, it's the season to do so. If you're looking to take your hair from blonde to pitch black à la Hadid, keep on scrolling — three products perfect for faux-dark manes are below.
Shop The Look