You May Be Craving A Blonde Moment Thanks To Gabrielle Union's Latest Look
Gregg DeGuire/Getty Images Entertainment/Getty Images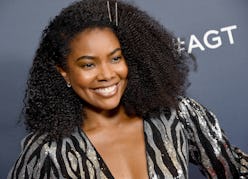 Amidst an influx of celebrity hair transformations from blunt bangs to teal tips, it appears that another leading lady in Hollywood is looking to have more fun this fall. Gabrielle Union debuted a platinum blonde bob on Instagram on Thurs., and the statement look further proved the Bring It On star's affinity for pulling off whatever hairstyle she tries her hand at. "Turns out I'm not having any more fun than usual 🤷🏾‍♀️," the 46-year-old joked on Instagram, striking several poses with the head-turning new 'do.
The striking hue wasn't the only thing that made Union's 14M Instagram followers pause for a second look. The actor's fuchsia cat-eye shimmered with futuristic vibes, serving as a stunning accent to her low-plunging berry-tinged power suit. Fellow longtime entertainers agreed, with Jada Pinkett Smith confirming "You cute tho 😍" and LaLa Anthony exclaiming "Wooowwwwww" with ample fire emoji, and rightfully so.
Nearly 20 years after her first major big screen appearance in Bring It On, Union continues to cement herself as an ageless chameleon with countless hair and makeup guises up her sleeve, convincing fans worldwide that she's most likely at least part-vampire. Union has been spotted wearing a platinum wig while on-set for L.A.'s Finest before, so this daring look was short-lived, but who knows what's next on her never-ending roster of #lewks.
If you've been on the internet at all over the past month, you've likely caught wind of at least one hair transformation on the celebrity front. Charlize Theron got a bowl cut, Mila Kunis went blonde, and Selena Gomez is growing her hair out — to name a few. But even amongst the aforementioned changes, the blunt bob continues to reign supreme. From Bella Hadid to Jennifer Lopez, it's all about chin-grazing crops this season, so it's safe to say now is the time to take the plunge on your own aesthetic revamp.
Keep your fresh chop in exquisite shape throughout the colder months with The Zoe Report's selection of styling products for bobs, ahead.
power sui