Dua Lipa Dyed Her Hair A Totally Different Color & The Internet Is Obsessed
Carlos Alvarez/Getty Images Entertainment/Getty Images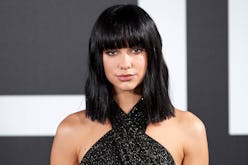 Add another star to the list of major hair changes happening in fall 2019. On Oct. 1, Dua Lipa debuted blonde hair via an Instagram post on her personal account, adding in the caption that it was "a new era." As you may expect, a vast majority of her fans seem to agree, and showed their excitement for the October style change: The three selfies she shared garnered more than two-and-a-half million likes in just one day.
This wasn't just any blonde makeover, though. One of the selfies — featuring Lipa's hair pushed up and to the side, '80s style — showed that only the front and top portions of the singer-songwriter's hair appears to have been lightened. The rest remains the same dark shade it was before, creating an eye-catching contrast fitting with the celebrity's cutting-edge style. (And perfect for any upcoming tours, in case Lipa really was hinting at new music in the IG post's caption.)
And gone were the blunt, eyebrow-length bangs Lipa premiered at Paris Fashion Week just days prior. The blonde shade was complemented by Lipa's classic sleek middle part and bob haircut — with not a single lock of fringe in sight.
As with most great hair changes, there was a star-studded roster behind the new dark champagne shade: Celebrity colorists Nicola Clarke and Shannon Gallacher, stylist Francesco De Chiara, and Lipa's own stylist, Anna Cofone, all had a hand in creating the look according to an Instagram post of Lipa's new 'do shared by Clarke.
The post also revealed one major product shout-out that anyone inspired by Lipa's blonde tresses should keep in mind. Clarke mentioned that De Chiara used Virtue Labs' ColorKick to, in her words, "keep Dua's hair feeling fine." While a cosmetology license is required to pick up the professional keratin hair filler — apologies to any DIY colorists — there are other at-home treatments you can use post-bleach to help your hair remain lively. Below, three hair-rescuing products to stock up on before any Lipa-inspired salon appointments.
Shop The Look