Amal Clooney's Engagement Ring Is So Timeless — Here's Why
WPA Pool/Getty Images Entertainment/Getty Images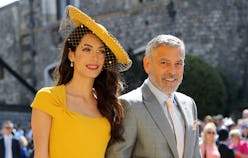 If there's one thing that has the power to captivate the world's attention more than the announcement of a newly engaged celebrity, it's the diamond sparkler that appears on said starlet's finger soon after. And though unique shapes and colored gemstones are on the rise, one look at Amal Clooney's engagement ring might just convince to go with a more timeless, traditional style.
Clooney's ring is already notable — George proposed to her in April 2014 and the couple wed several months after on Sept. 24, 2014. But as engagement rings continue to inspire the fashion-obsessed (looking at you, Lady Gaga), The Zoe Report was inspired to delve deep into the celebrity-ring archive to unearth some of the more classic jewels like Clooney's.
"Amal's show-stopping ring features an estimated 7-8 carat emerald cut center diamond with tapered baguette diamond accents on each side," Kathryn Money, vice president of strategy and merchandising at Brilliant Earth, shares with The Zoe Report via email. "The ring is set in platinum or white gold and has an elegant and timeless look," Money adds, estimating the ring's value to be somewhere between $600,000 and $750,000 depending on the quality and specific characteristics of the center diamond.
Though unconventional engagement rings are currently growing in popularity, Money shares that over the past year there's also been a spike in elegant three-stone styles, noting that Meghan Markle's sparkler — a three-stone diamond ring — is continuing to fuel this particular trend.
It's no secret that an engagement ring should fit (or at least play off of) the wearer's personal style. Considering the fact the Lady Gaga is well-known for her striking, over-the-top fashion moments, a more untraditional pick is right in her wheelhouse. On the other hand, Clooney has perfected the art of piecing together a look that's playful, professional, and polished, all at once. Her style is elevated yet classic, and as such, the timeless and elegant emerald-cut ring George chose — and actually helped design — was the perfect pick.
The proposal is almost as noteworthy as the engagement ring. While on The Ellen DeGeneres Show in 2016, George detailed exactly how he asked for Amal's hand in marriage — and according to the actor, it caught her entirely off guard.
"I've got [the proposal] all set up, timed out, and the song is coming, and she gets up to go wash the dishes, which she's never done," he shared with DeGeneres. "And I'm like, 'What are you doing?' and she comes back in. And finally I said, 'Ya know, I blew out the candle' and I said, 'I think the lighter's in the box behind you.' And she reaches around and she pulls out the box and I've got just the ring sitting in there, and she pulls it out and she looks at it and she's like, 'It's a ring'—like somebody had left it there some other time."
But despite the hiccups, you know how the story ends — she said yes, and Clooney presented her with an emerald-cut, seven-plus carat diamond.
If untraditional engagement rings just aren't for you, then a more timeless, classic pick like Clooney's might be your calling card. Ahead, shop The Zoe Report's favorite rings, inspired by Clooney's emerald-cut diamond.
Shop The Look