Zoë Kravitz Has Been Secretly Engaged For Months (& Her Ring Is Stunning)
Jamie McCarthy/Getty Images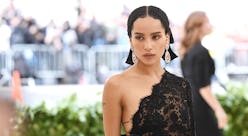 Surprise! Zoë Kravitz and her boyfriend of two years, Karl Glusman, are officially engaged. Although she wasn't ready to go public with the news until now, the Big Little Lies actor told Rolling Stone that Glusman popped the question back in Feb. Yup, Kravitz's engagement ring has been on her finger for months — and it's so gorgeous, it's surprising that it went unnoticed.
Kravitz, who graces the cover of Rolling Stone's Nov. issue naked, told the magazine that she originally "wanted to keep [the engagement] private." She explained, "I haven't told anyone yet — I mean, I haven't told the world." Glusman, also an actor, met Kravitz two years ago at a bar with mutual friends. They started dating fairly immediately. "I can be my weirdest self around him," Kravitz shared. "It's so relaxing to be around someone where you can be a hundred percent how you feel."
Kravitz recalled that Glusman had originally planned for an elaborate proposal while the two were in Paris, but he ended up surprising her with a casual — and incredibly sweet — gesture at their home in Williamsburg, Brooklyn. "I was in sweatpants," she said. "I think I was a little drunk."
While the proposal was low-key, the ring is anything but. Kravitz was first photographed wearing it during the 2018 Met Gala in May. The actor left her usual assortment of perfectly stacked and layered rings at home, instead opting for a black Saint Laurent gown and her glitzy new piece.
Kravitz has yet to release any photos of the ring herself, but it appears to feature an oval-shaped center stone atop a diamond-covered band. Considering Kravitz's incredibly unique style, the ring is a bit more traditional than you might assume. Although unique engagement rings are on the rise, classic cuts and colors prove just as popular as ever, Kathryn Money, vice president of strategy and merchandising at Brilliant Earth, shared with the Zoe Report in Oct.
Kravitz joins an impressive crop of celebrities who've decided to tie the knot in recent weeks. Most recently, Lady Gaga confirmed her engagement to Christian Carino during a speech at ELLE's 25th Annual Women in Hollywood Celebration. Unsurprisingly, Gaga's engagement ring aligns perfectly with her eccentric style. The singer opted for a pink sapphire, surrounded by 12 colorless diamonds on a yellow-gold band.
Priyanka Chopra and Nick Jonas have also taken their relationship to the next level. Although the couple has been quiet about their wedding plans, Chopra held her bridal shower in New York City on Sun. evening. She showed up to Blue Box Café of Tiffany and Co.'s flagship store wearing the prettiest Marchesa gown, complete with subtle feather trim and intricate embroidery.
Considering Kravitz was able to keep her engagement a secret for an impressive eight months, it's unlikely that she'll let any wedding details slip. One thing's for sure, though: Her dress is bound to provide one of the coolest fashion moments of the year (that is, if we get a glimpse of it).