Anna Wintour's Dream Met Gala Guest List Would Include *This* Iconic Duo
Shutterstock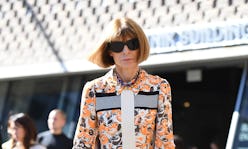 Anna Wintour is the queen of fashion and, of course, longtime chair of the ever-prestigious Met Gala. In an interview with the Today Show, the Vogue editor revealed the guests she'd most like to see posing on the steps of the Met, and you could probably guess who she named. Kate Middleton and Meghan Markle are the Met Gala attendees of Anna Wintour's dreams.
The Oscars of fashion is mere days away now and in the midst of preparations, Wintour sat down with Today Show host Jenna Bush Hager on Fri. morning to talk about the famed ball. Sporting her usual sunnies, the magazine editor told Hager that, in this particular case, they were less of a fashion statement than a disguise to hide her tired eyes.
"I haven't actually been to bed," she said, telling the host that she stayed up all night jotting down notes for next year. Apparently, she has the next three themes already picked out, and she has her eye on a few new attendees, too.
When asked about who she hopes will make an appearance one day, she named the biggest names she possibly could have (obviously).
"I would love to have the Duchess of Sussex and the Duchess of Cambridge together. That would by my dream couple," she said. "they could leave their husbands at home."
Neither Middleton nor Markle has ever attended the iconic event, although they've probably received plenty of invites. Wintour's dream of the royal duo arriving together, sans princes, certainly won't be happening this year because Markle's baby could arrive at any moment.
But someday, if Wintour gets her way (which, she usually does), you might just see these trendsetting royals joining forces for the fashion event of the year.
Though Middleton and Markle have become two of the biggest style icons of our generation, the royal dress code prohibits them from getting too bold with their wardrobes. The Met Gala is notorious for bringing out the biggest, riskiest, most avant garde outfits, which is quite opposite of the duchesses' usual looks.
Wouldn't it be interesting to see what they would come up with for 2019's super-edgy camp fashion theme? One can dream.
Wintour spilled a few extra details on Mon.'s event, too, hinting that guests have asked to arrive "on unusual methods of transport" and that the red carpet "might not be red" this year, adhering to the camp theme.