Amal Clooney's Go-To Nail Polish Is On Sale
Leon Neal/Getty Images News/Getty Images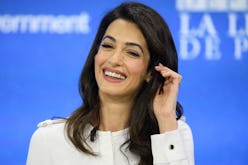 Amal Clooney is one classy lady and classy ladies always have impeccable nails. The lawyer's in-home manicurist has coined an entire collection of her client's favorite colors under her affordable new brand, NVLA. Right now, Amal Clooney's go-to nail polishes are even more budget-friendly because they're all on sale.
Celebrity manicurist Gina Alcedo is the woman behind celebrities such as Beyoncé, Jay-Z, Donatella Versace, and the Clooneys' never-imperfect fingernails. Earlier this year, the nail guru launched a line of polishes, cuticle oils, and creams that are vegan, cruelty- and eight-free (omitting eight toxic chemicals that many other formulas include).
Lucky for all the admirers of Clooney's nails (*raises hand*), Alcedo's NVLA brand — which is short for NAILVANA.LA — features the famous human rights barrister's go-to fiery hue and it was even approved by Clooney, herself.
If you pay attention to the 41-year-old's favorite colors, you already know she's partial to rich reds, classic nude, light pink, and deep purple, all of which are included in NVLA's current sale.
The celebrity-approved polish is usually $18, but with the launch of Alcedo's new Hollywood Collection, the original hues are now 20 percent off. The sale includes nine products, including a base coat, a cuticle cream, and a handful of dreamy colors that Clooney obviously adores.
According to Alcedo, who keeps both George and Amal's nails constantly looking fresh, the chic lawyer's favorite colors include Rockingham Red, which she recently sported to Jennifer Aniston's 50th birthday party; and Perfect Image, the dark wine shade she wore to Meghan Markle's baby shower; as well as Sunset Blvd Nude and Ms. Huffington Pink, which she paired together for her appearance at the premiere of George's new Hulu series, Catch-22, in May.
The polishes include healthy extracts such as myrrh (which helps to strengthen and protect your nails) in place of harmful chemicals and toxins because Clooney's nails deserve only the purest, of course.
NVLA is "founded on the principle belief of striving to achieve natural beauty," according to the brand, so although the products are inexpensive, you can expect them to contain high-quality, nonharmful ingredients exclusively.
Now, go snag Amal Clooney's signature nail colors while they're on sale for only $14. The trendsetter's favorite shades from Alcedo's Brentwood Collection, ahead.
Shop The Products