Why Celebrity Manicurists Swear By Chanel Nail Polish
Michael Buckner/Getty Images Entertainment/Getty Images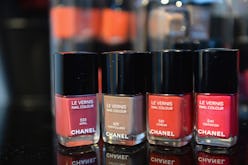 Chanel nail colors are just as luxurious as anything else with the double C logo. The colors range from long-wear classic candy apple reds, feminine and sleek pinks, to vampy and deep velvet hues. According to celebrity manicurists, the best Chanel nail polishes fall under all of those categories... meaning there's something for every kind of aesthetic.
So what is it that makes these varnishes so unique? It's a combination of the brand's history and its unmatched formulas, says celebrity nail artist Elle. In her opinion, "Chanel polish has a unique formula that makes their colors one of a kind and not able to be recreated," she tells TZR. Chanel's formula is 5-Free which means that each polish is without formaldehyde, dibutyl phthalate, toluene, formaldehyde resin, and camphor — ingredients that have strong odors, can trigger asthma, and are known carcinogens.
Though the selection of moody, classic, and feminine shades is massive, celebrity nail artist Chelsea King has a trick for picking the right shade. "When looking at a color, I always open the cap to examine the brush and see how thick or watery the polish is. I prefer wider brushes and pigmented color [unless the polish is meant to be sheer]," she says.
Or just wear whatever you want — that's what New York City-based nail artist Miss Pop does. "Desire is the only way to pick a shade of nail polish," she says. "I wear what I want when I want it! I can wear what calls to me this week, and then next week fall for another shade. Isn't it romantic? That's the beauty of nail polish. I can have it all, one manicure at a time."
Ahead, see the Chanel Le Vernis shades that are worth wearing for every occasion.
Neutrals & Soft Pinks
Vampy & Moody
Classic Reds
Bright & Shiny