5 Warm Weather Vacations Perfect For Escaping The Cold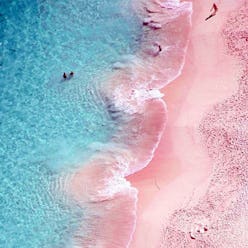 Need a pick-me-up from post-holiday blues or just not digging the cold weather? Either way, if you're looking for any excuse to get out of town, we totally get you. To help you beat the cold, we've come up with the most dream-like destinations we could find. So book a ticket for your next absolutely perfect lust-worthy vacation, grab your swimsuit and escape the chill.
Rio De Janeiro, Brazil
While it may be the dead of winter up here in the Northern Hemisphere, the Southern Hemisphere is enjoying mid-summer weather. This makes it the perfect time to both escape the cold and visit one of the most lively cities in South America: Rio de Janeiro. We love the super-classic Belmond Copacabana Palace hotel for a taste of Brazilian elegance. Just make sure to brush up on your Portuguese first.
Whitsunday Island, Australia
Located off the coast of Australia, in the majestic heart of the Great Barrier Reef, this picturesque island is truly the stuff of dreams. Imagine white sand beaches, crystal clear turquoise water, palm trees and Australian accents. For the perfect stay, we're all about the beachfront luxury of the One & Only Hayman Hotel's infinity pool and ocean view. What more could you ask for?
Turks And Caicos
If you're in the mood to fully tune out from the reality of winter, it's hard to beat a Caribbean white sand beach in Turks and Caicos. Enhance your stay by going with one of the islands numerous five-star hotels. Our preference? The gorgeous and ever-classic Palms Hotel.
Bermuda
If winter has you down, perhaps a bright pink sand beach is just the thing you need to cheer you up. Run with that pink theme and lounge around the Princess Bermuda hotel, whose pink exterior is as iconic as the pink beaches themselves.
Sharm El-Sheikh
Nestled along Egypt's Sinai Peninsula, Sharm el-Sheikh is the definition of exotic. Drink in hand, take in the views of the Red Sea while lounging in your own private cabana at the Sharm el Sheikh Four Seasons. Watch how quickly memories of snow melt away.