How To Turn A Side Hustle Into A Billion-Dollar Business, According To This Insta-Famous Beauty Boss
Matt Winkelmeyer/Getty Images Entertainment/Getty Images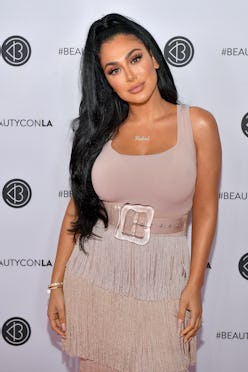 These days, many extra-curricular activities (once dubbed hobbies) are materializing as "side hustles" and even full-fledged business. Yes, thanks to the internet and social media gods, skills like makeup application, hair styling, and an eye for curating a flawless wardrobe can prove a lucrative money-making venture. All you need is an entrepreneurial edge and mentality and that passion project you spend your weekends on can turn into an actual enterprise: Just ask Huda Kattan.
Yes, it was less than a decade ago that the founder and CEO of Huda Beauty started a WordPress blog of the same name. The platform originally served as an outlet for the professional makeup guru to share insider tips, tricks, and her favorite looks in her spare time. Considering Kattan had a full-time gig as an artist in Dubai (she worked for Revlon as an exclusive MUA!), the site was technically a side project of sorts, and something she squeezed in when she had a free moment. "Through that transition some really amazing things happened," explains Kattan in a sit-down with The Zoe Report. "I started to relearn what my definition of beauty was. As I was teaching people beauty tips, they were writing back to me and telling me how much it impacted their lives. I realized it was much more powerful than I thought it was."
Powerful, indeed. The Huda Beauty blog and Kattan's uber-popular social media channels quickly skyrocketed the makeup queen to superstar and influencer status. It seemed only natural to take that success and run with it — which is exactly what the Iraqi-American mogul did, launching her first product under the Huda Beauty label in 2013. The inaugural product — false eyelashes — quickly became viral thanks to an epic celebrity endorsement from Kim Kardashian West herself. The A-list support and Kattan's astronomical social media and online presence (Kattan topped Instagram's inaugural "Rich List," earning the title of one the platform's highest paid influencers) put Huda Beauty on the map. To keep momentum going, entrepreneur acted fast and quickly released additional products including eyeshadow palettes, liquid lipsticks, concealers, and her now cult-favorite Easy Bake Powder.
The rest, as they say, is history. Six years since the the first product launch and Huda Beauty is already a hit among beauty lovers and valued at over a billion dollars, according to Forbes. Always one to strike while the iron is hot, Kattan took her enterprise to the next level in launching a reality-style show on Facebook Watch in 2018, titled Huda Boss. The 20-minute episodes give fans and aspiring entrepreneurs a candid look at the highs and lows of launching a beauty business in a highly saturated industry. The show also allows viewers to meet the Huda Beauty team, which is largely comprised of Kattan's family members (her younger sister Mona Kattan serves as Global President while older sister Alya Kattan is the Chief Instagram Officer). Now in its second season, Huda Boss is an official hit with the first and second episodes of Season 2 receiving some 919,400 and 1.2 million views respectively to date.
The question on everyone's mind at this point is: How exactly does a side hustle turn into a billion-dollar business in such a short span of time? Read on as Huda and Mona Kattan discuss the ups and downs of their journey to the top of the beauty food chain — and what it's like to put your lives on camera.
The Zoe Report: What made you want to get into the reality-show genre and what made you choose Facebook as your platform for the show?
Mona Kattan: We were approached by different production agencies who wanted to create a show around the family, but they all wanted to go the more drama-filled route. We knew we definitely didn't want to do that. It would be great exposure and great TV — but at what cost? We wanted to be more light and family-friendly so Facebook was the perfect platform for us.
Huda Kattan: Ultimately, Facebook also made the most sense. We got a really interesting statistic from our investor who told us that 40 percent of our followers are actually on Facebook and consist of women who want to start their own business. So it just seemed like the right platform for people to soak up the show. We're hopefully teaching people what it means to run a business. And, I'm not gonna lie, I love the fact that you can comment back and see what people are thinking as soon as episodes go up.
TZR: What's been the most surprising thing you've learned about yourselves since filming Season 1?
Huda: I think I've learned that I need to let go. To be honest, I think that I was a bit too controlling in my role. I almost felt stuck last year, like I needed to be personally involved in every aspect of the business and that's just not the case. I've learned to bring on the right people and empower them. Because of that, I think the brand is really ready to take off in a way that we haven't seen before.
Mona: [The show] has definitely opened up our eyes to different areas of our lives. After watching Season 1, I felt like I needed to make changes. I started taking better care of my health and really focused on my well-being and balance — I was so unbalanced at the time. I started working out more, started dating again, and actually got into a relationship! So, it's led to a lot of life changes for me.
TZR: What were some mistakes or lessons you learned early on when the company was just getting off the ground?
Huda: I think the hardest thing for us to tackle was managing cashflows. We really didn't have a lot of money when we started out, so we were often out of stock because we couldn't buy replenishment.
I think we made some bad business decisions as well, which you'll see on the show. Like, some of the products we make actually lose money for us. We were growing so much we weren't able to check on pricing. You don't ideally want to lose money, but that's just the quality that we put into the products.
TZR: So you mentioned that a good portion of your followers are female entrepreneurs. For those who are looking to follow in your footsteps and turn a passion or a side hustle into a successful business, what's the biggest piece of advice you have to give?
Mona: I used to be a banker and I read this book right before I quit my job, called 7 Lessons To Learn Right Before You Quit Your Job. The number one thing that resonated with me was to just get started. The book even referenced Bill Gates and how he knew at the beginning that his software was flawed but he just got it out there so people could test it and give their feedback. I think people are often obsessed with perfectionism when it just doesn't exist. You continuously evolve and your benchmark keeps moving. I see it all the time with friends — they'll sit on a business idea for years because they're obsessed with perfectionism but it will never happen.
Huda: Probably the biggest thing that I've learned is the importance of keeping things fun. I need to enjoy beauty and have it be my 'me time.' I love spending two hours doing my makeup. It's a fun, slow process. I'll listen to an audio book while I discover and try new things. I don't do it every day, but it's how I practice self-love.
TZR: You also mentioned hiring great people and letting go of the reigns a bit. How are you hiring differently now then when you first launched?
Mona: We have what we call 'Huda Beauty' material — someone who is relentless, goal-oriented, and gives a lot of f*cks. We care so much more about those qualities than experience because they're aspects that you can't train. You can train skill but you can't train attitude. Also, we need our people to be kind.
There was definitely a time when we were growing really fast and scrambling to just fill a position so we would rush to hire. And, that's when you realize quickly that, you'd rather work yourself to the bone to get the work done than have someone who is not a culture fit.
Huda: We usually can tell within two weeks if someone is not the right person for the job. We gift everyone the entire makeup range, but will hold off for two weeks to make sure they're going to jive with the rest of the team. I think I have great intuition when it comes to hiring.
TZR: What have you learned specifically about beauty since starting Huda Beauty? Any new tricks or go-to products that maybe weren't on your radar before?
Mona: I used to stick to a very basic beauty routine — mineral foundation, lipstick, mascara. The basics. Now Huda's made me love a'cake face!' She's taught me so many techniques for layering foundation — ours is really great. I can't use anything else now.
Huda: Oh my gosh, she fought me on this and now she loves foundation! I can't believe I'm hearing this from her.