9 Winter Color Trends To Get You Out Of Your All-Black Outfit Rut
Christian Vierig/Getty Images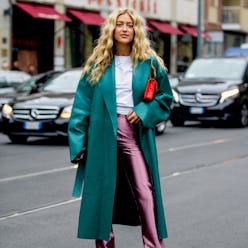 Welcome to the time of year when minimalists and the color-averse thrive: It's widely accepted to wear head-to-toe black on a daily basis, and the color palette doesn't stretch much beyond navy, charcoal, and burgundy. This year, however, winter's emerging color trends in fashion are decidedly more, well, colorful. Think hot hues like orange, marigold, and fuchsia, plus modern substitutes for the usual jewel tones — teal instead of sapphire or emerald, cranberry instead of garnet. Even classic black is being replaced by earthy shades of coffee and chocolate brown.
Vivid pink and tangerine may be familiar holdovers from fall's standout collections (Sies Marjan, Molly Goddard, and Carolina Herrera are just a few of the labels that featured these hues), but many of the newer colors to emerge have subtly mutated with the shifting seasons. For example, the latest green fixation leans towards the chartreuse shades seen at Versace and Brandon Maxwell's Fall/Winter 2019 shows — it's less artificial and electric than the slime green that dominated summer, but more acidic than this autumn's pistachio obsession. Similarly, fall's mellow yellow and poppy red evolved into the toasty, spiced winter tinctures, butterscotch and berry punch.
With this surge in saturated hues, there's no better time to embrace color in full effect, monochrome statement suiting is having a moment, after all. But if you're feeling reticent about piling on so much pigment, start with baby steps. Try incorporating a few vibrant accents into your existing wardrobe of darks. The result can be surprisingly understated, as demonstrated by influencer Linda Tol and Sandra Sauceda's chartreuse-and-ink ensembles, or swap your standard black and grey palette for alternative neutrals that are just as versatile and easy to wear but decidedly more intriguing, like dark walnut, camel, and pine.
Keep reading to see the key color trends filtering in this winter and how women are wearing them, plus shop pieces in each of-the-moment hue.
The Color Trend: Mustard Yellow
You wake up and it's dark; you leave the office and it's dark. A little sunshine might be just the energizer you need right now, even if you can only get it in the form of golden yellow apparel. Mustard feels rich and robust, but still happy and energized. Try knits, leather, or quilted textures for day, and silky satin or velvet for evening.
The Color Trend: Cranberry
Not quite red, not quite pink, cranberry falls somewhere in between the two. It's a subtler shade than your typical holiday scarlet, but has more elegance and depth than rose, blush, or bubblegum tones. This warm, sensuous color is muted enough to be paired with other statement hues without competing, but still strong enough to stand alone.
The Color Trend: Deep Teal
Teal is one color that works year round, but it is an especially compelling option for winter. There are a lot of blues on the rise right now, ranging from bright turquoise to the darkest midnight. But where navy, for example, might feel a bit conservative or played out, deep teal feels modern and unexpected; or where aqua feels splashy and playful, teal feels sophisticated and expensive. Plan to wear this hue for many months to come.
The Color Trend: Chocolate Brown
Some might call it sacrilege (looking at you, New Yorkers), but more and more fashion girls are converting from the church of all-black to the cult of chocolatey goodness. Indulgent, velvety mocha is perfectly suited to winter's bundled-up, cozy mood, and as a substitute for ebony, it's subtler and less severe, but still just as wearable. From sumptuous espresso knitwear, to sleek croc-embossed brunette leather, dark brown really is the new black. Like it or not.
The Color Trend: Pumpkin Orange
Orange seems to be everywhere these days. Dark burnt shades are entirely acceptable and stylish this time of year, but it's the zesty shades like pumpkin and tiger that are winning favor this winter. It's a surprisingly versatile color that you can layer as a tonal look, or wear with neutrals for something more subdued. It also looks cool in combination with other brights, like punchy pink, honey, or lime.
The Color Trend: Forest Green
Hunter, forest, British racing green — whatever you want to call it, the dark verdant hue is having a big moment. What better time for a conifer-inspired color than when pine, juniper, and spruce trees rule the natural landscape? It's a festive choice for the holiday party circuit, plus it's also a highly palatable replacement for basic black and navy that even the most austere dresser can embrace without too much discomfort.
The Color Trend: Camel
This one is for all the minimalist outfit finatics out there. Neutrals are always in style, but this season classic camel has achieved full trend status. It's hard to pinpoint what exactly earned the tried-and-true hue its recent surge in popularity, but it gives any ensemble an air of elegance and prestige, and of course, it goes with literally anything. A camel coat is one of those fundamental pieces every woman ought to own, but this season is seeing everything from trousers to sweaters to boots done in tan too. Consider this your new favorite neutral.
The Color Trend: Vivid Cerise
Pink is a breath of feminine air among some of the season's more robust hues, but it's nothing like saccharine or juvenile. Instead of bubblegum or pastel baby shades, this vivid cerise color veers closer to magenta. It's like '80s pop meets Barbie but punched up even more — a strong, powerful pink that looks especially commanding done in monochrome tailoring with some combat boots and chunky jewelry.
The Color Trend: Chartreuse
Variations on light green have been in the spotlight all year long, from spring and summer's slime green craze to fall's pistachio obsession, and now chartreuse for winter. The acidic hue is an unexpected choice for the cold-weather season, but it makes for an invigorating boost when added in small doses to your typical winter palette of black, gray, navy, and brown.