This Color Trick Makes Outfits Look Instantly Luxe
@tylauren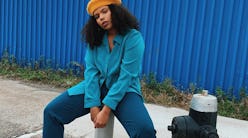 Not so long ago, you may have been convinced that Instagram trendsetters were anti-color. Your feed was full of #OOTDs in shades of beige, black, and white. And it makes sense — a closet full of neutrals is a closet full of interchangeable pieces where everything goes with everything — but it can also get a bit dull after a while. If you're feeling fatigued by the strictly neutral aesthetic, good news! Influencers are embracing every shade on the spectrum, opting for bold monochromatic outfit ideas this fall over mere accents of color here and there.
This look is daring, sure. Pulling off all-over color is not for the faint of wardrobe. That said, there are ways to wear the trend that are less extreme if you're looking for an entry-level option. While more intrepid dressers might select a brightly hued statement suit that packs a major punch, a more middle-of-the-road approach would be to try a tonal ensemble that makes the most of multiple shades within a single color family. For an even subtler effect, there are pastels and whisper-light colors like pale vanilla, which can still feel on-trend when worn head-to-toe. No matter what level of saturation you're comfortable with, you can try this trend. Keep scrolling to see and shop some of the chicest ways to go monochrome this season.
Millennial Purple
Shades of lavender and grape are quickly replacing pale pink as the new "millennial" hue of choice. Build out an outfit in an entirely purple palette for a truly of-the-moment take on monochrome dressing.
Dusty Rose
Soft rosy tones are a subtle way to wear all-over color that isn't too intense. Give the look an extra-rich feel with styles in luxurious, textural fabrications like satin and velvet.
Peacock Blue
Blue is one of the easier colors to wear from head to toe. While something in navy may be an easy and safe choice, an ensemble of varying teal and turquoise tones is infinitely more impactful.
Vanilla Custard
If you're struggling to give up your beloved neutral hues, vanilla custard is a color that sits somewhere between creamy ivory and pale banana. It's a beginner-friendly way to do monochrome that's not as pared-down as wearing all beige.
Cool Aloe
Pale pistachio is topping the list of color trends for fall 2019. It looks especially elegant when rendered in soft, languid fabrics and relaxed silhouettes.
Goldenrod
Herald the arrival of autumn with a pigment that mimics the palette of fall's colorful foliage. Instead of a summery sunshine yellow, turn to deeper tones of gold and ochre.
Orange Crush
Brilliant tangerine is as statement-making as colors come. A tip when it comes to accessorizing an ultra-citrus look: Instead of going with orange extras, try cognac leather which has a similar tone and brings a natural touch to the mix.
Green Machine
Shades of grass, olive, and hunter green are timeless favorites for the fall season. Create the perfect ensemble by mixing different textures in complementary verdant tones.
Scarlet Red
Scarlet red is as classic as it is glamorous and boldly modern. Create a look that captures the best of all three qualities by selecting streamlined, structural pieces all in luxe crimson leather, then finish the look with some cool, cherry-tinted aviators.