Summer's Coolest Combinations Are Already In Your Closet
@maria_bernad On Instagram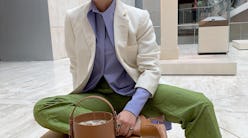 The color wheel has long been a source of influence for creatives. Fashion designers, interior decorators, and abstract painters alike have employed methods of combining different shades together to devise a distinct mood or emotion. The idea that color combinations can evoke particular feelings even extends beyond the boundaries of art — just think about sports team jerseys, national flags, and even traffic signs (it's practically impossible to see red and white together and not think to stop, right?). Clearly, there's a lot more to color than just ROYGBIV. All that said, combining the very best colors to wear together when creating an outfit is an easy way to set your style apart. The coolest combinations of 2019 are worth taking inventory of if you're interested in evoking a vibrant aesthetic.
This summer, snappy, saturated colors are a designer favorite. There are citrus-inspired hues like marigold and canary yellow, '70s-style tones like olive green and faded rose, and of course a few electric touches including chartreuse. Ahead, see how Instagram influencers are experimenting with different color combinations, and if one of the formulas piques your interest be sure to shop the picks to make a splash in your own wardrobe this season.
Sky Blue + Canary Yellow
There's something especially summery about combining blue and yellow together. This season, try a sky-blue shade and canary yellow to take things up a notch for any fancy outdoor activities.
Marigold + Emerald Green + Orange
Experiment with different hues of orange by wearing a marigold dress with bright orange heels. Team the two with a grass-green mini bag, like this one from Alfeya Valrina.
Cobalt Blue + Mellow Yellow
Remember the aforementioned blue and yellow combination du jour? The looks so different when you play with the tones. Cobalt and a rich, buttery yellow is another pairing that ought to be worn ASAP.
Rose Pink + Tomato Red
If you're looking for a color combination that gives off an air of romance, then try wearing a rose petal pink dress with cherry red sandals. If needed, a simple denim jacket is a great layer to complement the two and tone down the colorful combination just a bit.
Orange + Chartreuse
Add some zest to your go-to black trousers with an orangey sheer top and a chartreuse-colored tote bag. The two feel well-suited for each other and the noir base helps balance the ensemble.
Lilac + Cranberry
Here's another ladylike combination to try when you want to evoke a touch of whimsy: lilac and cranberry.
Lime Green + Chocolate Brown
If the '70s are a decade that especially inspire you then a lime green and chocolate brown duo should be within arm's reach all summer long.
White + Lavender + Grass Green + Saddle Brown
Color combining doesn't have to be limited to two; Sometimes bringing in several shades and neutrals at the same time can be a success. Such is the case with this chic look, which includes lavender and green offset by white and saddle brown.