This Beauty Set Makes For The Perfect Holiday Gift, According To Rachel Zoe
Courtesy of Rachel Zoe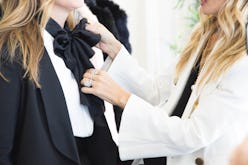 Whether you're buying for a family member who deserves something extra special, or you're seeking something for the friend with impeccable taste, sometimes you have to pull out all the stops. So who better to help you assemble a list of luxury holiday gifts than Rachel Zoe? After all, her reputation for aspirational glamour is firmly routed in reality, as evidenced by the ubiquitous presence of sequins and couture in her daily life.
But even she is quick to point out that luxury doesn't have to equate to big ticket items. "Luxury can be very affordable," explains Zoe. "Simply look for thoughtful pieces that will make someone's life feel a little more decadent". Sure, that could be the coveted designer handbag they've been lusting after for months, but it could also be a delicate headband that won't set you back more than $150. One thing is for sure, the recipient's personality should always be top of mind. "Don't just spend extravagantly for the sake of it," warns Zoe. "Only opt for pieces you know they'll absolutely cherish, which makes the heftier price tags completely worth it." Here, a little inspiration to guide you in the right direction.
A Classic Coffee Table Book
Any design aficionado or fashion plate will appreciate a beautiful coffee table book. This Assouline tome about Chanel is particularly pertinent given this year's loss of Karl Lagerfeld, making this a gift that will be cherished as an heirloom for decades to come.
A Stylish Tote Bag
Oversized bags are destined to continue their moment in the spotlight this spring, a fact that surely isn't lost on your most stylish friend. Bringing new meaning to the phrase "go big or go home" this oversized basket tote will be a beloved addition to her closet.
A Jeweled Headband
Hair adornments aren't going anywhere, particularly for the holiday season, so why not treat someone with a flashy iteration they wouldn't necessarily splurge on themselves? "If in doubt, I'll buy someone a special version of something I've already seen them wearing," says Zoe.
A Designer Beauty Gift Set
We all know a beauty junkie, and not one of them would react with anything other than joy upon receiving this lip vault from Tom Ford. "The ultimate beauty gift as far as I'm concerned!" says Zoe.
A Luxe Candle Collection
For the consummate host (or homebody), a beautiful gift set of candles will never go amiss, particularly one with a unique design sensibility. "I adore classic candle brands, but these Tom Dixon stone candles are more unique and special," says Zoe.
Head-Turning Statement Jewelry
People typically only invest in classic, simple jewelry pieces they know they'll wear every day. "Why not gift them with a statement-making show-stopper like this heart-shaped topaz ring on a rainbow pave band?" suggests Zoe. "It will bring them joy whenever they wear it, which will typically be on special occasions!"
A Stylish Winter Hat
For anyone who lives in a tundra for several months each year, a cozy hat is always a welcome gift. "Add a little whimsy to their cold-weather attire with an oversized faux fur trapper hat," says Zoe. Who doesn't want to feel fabulous when running out for milk?
A Chic Printed Scarf
"I'm constantly updating my mother's scarf collection," says Zoe. "Because it offers an abundance of styling opportunities." For someone who will relish the chance to invigorate their favorite blouses and sweaters with a new print, try a bold, patterned scarf.
A Classic Sleek Wallet
There's no better way to elevate someone's every day than by gifting them a gorgeous wallet. "A neutral tan wallet with gleaming gold hardware is timeless," says Zoe. "It will only get better with age, and that should always be the goal when buying gifts!"