This Bag Trend Is Instagram's New Favorite Style
Edward Berthelot/Getty Images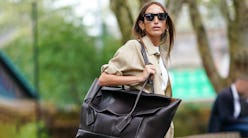 Just when you were finally getting used to restricting the contents of your purse to the bare minimum, the trendscape has flipped. Instead of tiny purses, suddenly oversized handbags are the new must-have style. We're talking huge, carry-your-life-with-you totes — an extreme departure from the barely-big-enough-for-a-Tic-Tac minis that everyone was obsessed with mere months ago. So feel free to return to your packrat ways, this season is all about supersize.
If the ultimate indicator of viral success in today's cultural zeitgeist is when something becomes a meme, then elephantine bags are well on their way to achieving superlative cult status. @TheBigBagClub is an entire Instagram account dedicated to showcasing the trend in all its (often comically) gigantic glory. The feed features Photoshopped edits of influencer photos with their already-substantial bags enlarged to even more exaggerated proportions. Virginia Rolle, the graphic designer behind the tongue-in-cheek page, came across a photo of influencer Paulinha Sampaio carrying a huge Gucci bag — on Instagram and that's when "the big bags took over."
"At first I thought that it was a fashion meme, a joke," Rolle recalls about the photo. "Then I found that it was real and I started to imagine all the bags in a larger size. It's [Sampaio's] bag that encouraged me to enlarge all the others. After all the bags I've modified, it is difficult to find any real ones that impress me."
That is, until the recent runway collections rolled out a bevy of super-sized options — most notably at Bottega Veneta, where Rolle calls out the aptly named Large Tote. She also highlights Maison Margiela's Glam Slam as an impressively oversized design.
So what is it that makes colossal bags such an instant hit with the fashion crowd? The statement factor is obvious, but the refreshing practicality and unrestrained space are just as appealing. "I have never found a bag to hold a computer, agenda, wallet, umbrella, beauty case, and all the other things that we women must always have with us," Rolle laments. "Many times I found myself with a canvas bag on one shoulder, a shoulder bag on the other, and still I'd have my hands busy with papers or notes." She views the recent surge in prodigious purses as the fashion world finally understanding women's needs. "Big bags are a girl's best friend!"
Influencer Chloé Harrouche of Loulou de Saison (who also happens to be the subject of one of The Big Bag Club's more viral posts — shown above) shares these sentiments. "I wear the Khaite Large Circle Tote a lot, and Bottega Veneta too," says Harrouche. "What I love the most is that I can take all I want with me. My agenda, my computer, my camera… who knows… a change of shoes, tissues for my kids! XXL bags are the new trend because they're the answer to the reality of life!"
Edward Berthelot/Getty Images
Edward Berthelot/Getty Images
Pernille Teisbaek, Tina Andrea, Beatrice Gutu, and Tiffany Hsu are just a few other names from the ever-growing list of fashion girls embracing the oversized look. If that's not proof positive that the trend is going to be huge (no pun intended), what is? Take it as your cue to shelve your mini bags for the time being and buy into something bigger and better. Shop a few favorites below.