These Undiscovered Handbag Brands Can Transform Every Outfit In Your Closet
Courtesy of L'Afshar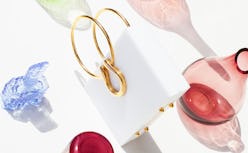 Newness is a constant theme in fashion, whether it be seasonal trends or street style-driven outfit formulas. At a certain point, the persistent deluge of new arrivals and trendy get-ups can be dizzying but there's a particular facet of the ceaseless "new" cycle that's anything but overwhelming: new handbag designers. Of course, emerging labels span all categories, but because handbags have such transformative abilities, a satchel, bucket, or top-handle style from a just-discovered brand tends to drive those "who makes that" conversations a little more frequently — and what woman with discerning taste doesn't love that?
There's no denying the allure of a Chanel, Gucci, or Saint Laurent label in the handbag department, but the most unique discoveries often lie in the more-undiscovered market where innovative color combinations, unpredictably placed hardware, and distinctive shapes rule. In recent seasons, brands like Danse Lente, Yuzefi, Wandler, Staud, and Nico Giani have been leaders in this space with quirky-chic designs that stand out amongst highly sought-after labels carried by top retailers. What's more, up-and-coming bag brands can offer more than innovative design and a new name to tout; at a time when sustainable and slow fashion practices are valued more than ever, certain labels are taking part in the ethical fashion movement, debuting bags that satiate both style driven and principled tastes.
Ahead, scroll through the edit of 11 new handbag designers delivering everything from polished-with-a-twist carryalls to distinctive handhelds and party-perfect pouches. When it comes to discovery, you've got it in the bag.
IMAGO-A
For minimalist bags with a whimsical, ladylike spirit, IMAGO-A is a must-know label by founder and creative director, Yegang Yoo. "The brand was launched in 2013 with the idea of making really original shapes that were geometric and sculptural, but also functional," says Yoo. "Subtle statement pieces that can be incorporated into someone's day-to-night wardrobe at a more affordable price than a lot of what you see in luxury designer leather goods." Whether you go for a sleek mini bucket or vintage-inspired top-handle with beads, this line has the playfully polished thing down pat.
Mashu
Continuing the theme of minimalism, Mashu is a London designed, ethically-made-in-Greece vegan bag brand by designer Ioanna Topouzoglou. "[My] vision is to create modern handbags that showcase the finest craftsmanship and materials without compromising the planet," says Topouzoglou who draws inspiration from Cycladic Greek Architecture and Art deco interiors and objects to craft the label's signature geometric hardware and bespoke handles. From color-block belt bags and top handle styles to artful buckets, every Mashu bag is sustainably made from premium non-leather materials, with a clean, structured, and playful aesthetic that stands out with casual attire and workwear alike.
Complét
For inventive bags with an everyday ease, Complét offers geometric silhouettes in both vibrant colors and sleek neutrals, founded by Sivan Moshkovitz, Leonora Fuhrer-Agmon, and Emily Whyte Meridor in 2013. Designed in Tel Aviv and made in Italy, each bag is crafted from luxe leather or canvas with a distinctly modern and architectural look, including the label's signature Valery Mini Satchel which can be worn crossbody, carried by the top handle, or looped around the wrist. "We wanted to introduce a product that all kinds of women can wear, regardless of age and style, with a twist on the obvious," says Whyte Meridor. "We see many women wearing our bag, [they're] sophisticated and modern with a love for quality and functionality. An individual in both style and attitude, a citizen of the world."
L'Afshar
Setting out to design the perfect modern evening bag, Lilian Afshar founded her Dubai-based handbag label, L'Afshar in 2014. With sleek box silhouettes in unexpected textures and materials as her signature, Afshar seeks inspiration from antique shops and markets for her classic-meets-minimal designs. "I always keep in mind to create something distinctive, a conversation starter bag," the designer shares. "The market was quite saturated with classic clutch bags. Adding a chain and handle to our clutches is what became our signature look." Already counting Bella Hadid, Kendall Jenner, and Queen Rania of Jordan as fans, L'Afshar offers more than hard-case evening bags but also boxy croc-embossed leather top-handle and half-moon-shaped styles.
ASHYA
"Our vision unifies a utilitarian function with sublime craftsmanship," says Ashley Cimone, co-founder and designer of the Brooklyn-based label, ASHYA. Establishing the brand in 2017 after a trip to India, Cimone and her co-founder Moya Annece — who were one of the five winners of The CFDA and the Accessories Council's Elaine Gold Launch Pad residency program — set out to create the sleek, no-frills belt bags they've become known for after struggling to find styles that felt sophisticated, yet functional.
"The accessories market is quite saturated with traditional bag styles and belt bags have been reintroduced in the same shapes over and over again," says Annece. "We look to explore sleek and fresh design approaches to utilitarian accessories, creating thoughtful unisex designs that empower our customers to move more fluidly throughout their travels and daily commutes."
Complete with custom hardware produced by a small metalsmith company in New York City's fashion district, Ashya's assortment ranges from neutral, multi-pocketed silhouettes to smaller, geometric shapes in bouncy colors. With a thoughtful and ethical business model, Cimone and Annece are continuing to educate themselves on socially conscious design practices to reduce waste and are seeking out alternative materials to possibly incorporate in future collections.
TL180
Founded by Luisa Orsini and Antonine Peduzzi in 2012, TL180 is a line of distinctively-shaped handbags boasting artisanal Italian craftsmanship. Designed with the intention to make women feel confident, natural, and effortless, TL180's offerings include shoulder bags, crossbodies, buckets, pouches, and belt bags, all in smart fabrics and textures like sleekly woven raffia and luxe croc and snake-effect leather.
"Our approach is different, we avoid the concept of fast fashion as it isn't smart in the long term. We like to create high quality pieces that our daughters could ideally wear in 20 years," says Peduzzi. Working closely with artisans in Tuscany, the brand is devoted to preserving time-honored techniques, but re-interpreting them for the modern woman. "Today more than ever there are so many options out there that you have to question what's the purpose," says Orsini. "[We're] always thinking about modern women with a sensibility for timeless and special pieces. Quality and design are extremely important for us."
What's more, Emma Stone, Emma Watson, and Lea Seydoux have carried TL180 bags — yet another reason to get the brand on your radar.
CA&LOU
Offering another modern alternative to the evening bag, CA&LOU's festive lineup of drawstring minis ranges from wallpaper florals to bedecked velvet with cross-body chains or sparkling straps as signature finishes, launched in the summer of 2016 by Carolina Neri and Bérengère Lux. "We designed our line trying to keep our girls 'handsfree' and glamorous," says Neri of the party-perfect styles. "We felt there was a lack in the market for evening bags at an affordable price — a glamorous evening bag to mix with your day-to-night outfit," adds Lux. As it has already been spotted on the arms of Olivia Palermo and Italian supermodel Bianca Balti, expect that this line will see swift sellouts from this point forward. So scoop up your favorite style ASAP.
Mietis
Bold colors and elaborate shapes are at the crux of Mietis, a Barcelona-based handbag brand founded in 2017 by Maria Fontanellas, though it's the smartly spirited color-block detailing — inspired from '60s and '70 furniture — that really sets this line apart. "I'm a big fan of Ettore Sottsass, Pierre Paulin, and Mies Van Der Rohe," says Fontanellas, who expertly translates her love of furniture and architecture into sharp bags that feel as genius with tailoring as they do vintage denim. "We work as if we are constructing a piece of furniture, paying a lot of attention on the quality of every single detail, the quality and craftmanship is very important to us." If splashy shapes and hues aren't for you, the designer offers a muted version of her Tatu bag in black as well as divinely simple totes in solid shades.
Alfeya Valrina
Delivering on modern design with an ethical ethos, Alfeya Valrina founded her namesake label in 2018 upon graduating from the Fashion Institute of Technology in New York and Fashion Institute of Design and Merchandising in Los Angeles. Born and raised in Indonesia, the Jakarta-based designer is dedicated to promoting fair labor practices in her native country by using locally-sourced materials and implementing zero-waste production processes for her products which are handmade with the help of local artisans.
"I set out to create a collection based around the shape of the traditional Indonesian baskets carried by [Mbok Jamu sellers]," says Valrina of her line, which is rooted in strong silhouettes in bold colors and with minimal hardware. "[I'm] driven by my love of accessory design as well as the desire to give back to my community in Indonesia. Having the opportunity to support local artisans through fair labor practices and the environment through ethically-sourced materials and waste-management processes is extremely rewarding."
To wit, Alfeya Valrina bags were carried by a slew of editors, stylists, and influencers on the New York Fashion Week street style scene — a clear indicator that cult status is imminent.
NST Studio
With a casual start to design in 2017, Natalia Teran began selling bags to family and friends through Instagram. But after a growing interest in her product, she took a step back to take design classes, conduct research, and source materials to officially launch NST Studio in September 2018. "I wanted to make something that's timeless yet still exciting," the Miami-based designer says of her signature knot silhouette. "A well-made, simple but statement-making piece at a reasonable price point."
The prints and fabrics used range from Toile de Jouy and cherry blossom motifs to beaded silk and luxe velvet, and each bag is made-to-order, and hand crafted. "It was important for me to make something that felt original and unique to the woman who's wearing it and speaks to her personal style," Teran adds.
ORRi New York
For an elevated and affordable take on everyday handbags, ORRi New York is lending a fresh perspective. The brainchild of female menswear designer Dana Kim and financier DJ Kang, the label launched in 2018 with the aim to bridge the gap between luxury and mass-market handbag brands. The result is a collection of sleek and functional satchels, totes, crossbodies, and clutches that feel effortlessly polished – the exact type of bag on-the-go types crave when transitioning between casual and formal settings.
"Balance of seemingly opposite forces is a consistent theme in our brand," says Kim of the handcrafted designs which feature clean lines juxtaposed by sleek curves. By partnering with a family owned handbag atelier in Korea and sourcing 95% of materials locally, the design duo is able to keep quality high and at a reasonable price point. "We only use grade-A leather from Korea instead of lower grade Italian leather. Doing so helps us save on unnecessary shipping costs, duty taxes, and labor fees, which is also better for the environment," Kim says.
With a current lineup of neutral tones that'll pair with just about everything in your wardrobe, stay tuned for the peppier hues set to debut later in 2019.