This Handmade Ceramic Mug Makes The Best Mother's Day Gift
Jaimie Lewis for Tenzo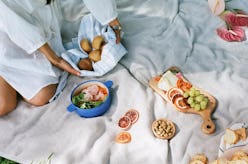 This year Mother's Day falls on May 12, which means you've still got a few more weeks to pull it together and find the mamas in your life the perfect present to make them feel honored and appreciated. Moms come in all forms (your best friend, your thoughtful neighbor, your sister, your actual birth mother, etc), so there's no one magic one-size-fits-all gift. To really nail it this year, consider what whoever your shopping for will find not only beautiful, but also totally useful. And if she loves to spend time experimenting and toiling away in the kitchen, there are a ton of gorgeous and useful culinary gifts for cook-enthusiast mothers can truly appreciate.
When it comes to shopping kitchen goods like pans to cookbooks, it's always helpful to turn to the pros for tips — especially if you're not well-versed on the topic. As a favorite of Los Angeles designers like Beatrice Valenzuela and Clare Vivier, online culinary shop and catering company Tenzo specializes in making cooking, dining, and hosting a beautiful affair, so of course its co-owner Jaimie Lewis has some expert advice on well designed and functional gifts any cooking aficionado — including the moms in your life — would love to receive.
Some mothers might get giddy over a pampering massage and others may appreciate a good bottle of wine (remember orange is the new pink), but if the woman you're shopping for gets a thrill from stocking up on luxe pantry staples or revels in creating a beautiful spread for her friends and family, you'll probably want to check out this list of Lewis' top suggestions for Mother's Day gifts she's guaranteed to adore.
Herbal Tea
Expert hostesses always have a variety or two of herbal teas on hand for guests, which is why finding culinary-loving moms an especially lovely one is a no-brainer. Lewis particularly loves gifting teas from Berkley-based brand Leaves & Flowers. "Rosella Mint is a personal favorite, but all of their teas are delicious and beautiful to brew," she says. "[It] combines the fruity flavor and vibrant ruby color of hibiscus with cooling mint and it's so delightful and refreshing either hot or cold."
High-Quality Cupboard Staples
Experimental home chefs will benefit from dressed-up versions of the essentials, like an infused olive oil or flavored vinegar to put the finishing touch on dishes. Lewis recommends this pineapple vinegar which she says is "perfect for adding to all sorts of dishes: meat or bean stews, sautéed greens, salads, even cocktails."
A Keepsake Cookbook
If you're shopping for a cookbook, opt for one she'll want to return to over and over again for years to come. For Lewis, that's Rose Carrarini's text featuring breakfast and lunch recipes from her popular cafe in Paris. "This has been a favorite book of mine for years and many of the recipes have either become personal staples or inspired signature dishes of mine," she explains. "The book itself features a clean and simple layout, with charming photos of the day-to-day life of the iconic Parisian cafe."
Display-Worthy Cookware/Serveware
A dish that's beautiful enough to go from the oven straight to the table will be a gift she's bound to gush over. "These versatile pieces are best-sellers for us and perfect Mothers' Day gifts," Lewis says. "For the mom who likes to bake and roast, they're oven safe and perfect for sweet or savory bakes, and they also make beautiful serving pieces for salads or fruit."
A Culinary-Inspired Candle
Besides things to use in the kitchen, if the mom in your life is a foodie, she might also love home fragrance that reminds her of her favorite ingredients, including Le Feu De L'Eau's line created with Lauri Kranz of Edible Gardens LA. "We love the natural scents of these candles and find them perfect for burning in the kitchen or dining room after a meal to clear the air," says Lewis. "African Basil is my favorite in the collection, a lightly sweet and herbaceous scent."
Durable Butcher Block
Upgrade her cooking prep game with a high-quality cutting board, suggests Lewis. "A good cutting board is crucial in the kitchen, and John Loftis' end-grain maple boards are the absolute best," she explains. "He's careful when selecting and arranging the blocks for his boards to ensure they're as beautiful as they are strong."
Chef-Approved Pans
If she wants to cook like the pros, she'll need the same tools they use. For Lewis, a good carbon steel frying pan is tough to beat. "They're lighter than cast-iron, but allow you to achieve the same effects and more," she says. "Once you season them, they're perfect for cooking almost anything — greens, eggs, fish, meat — and super easy to clean up."
Handmade Ceramics
Along with some small batch coffee or tea, moms will totally appreciate a gorgeous, handmade ceramic mug to make their busy morning routine just a little more luxurious. "ANK is one of my favorite ceramicists that we don't work with (yet)," Lewis says. "Her mug size and shape is just perfect, and the coquina glaze is beautifully evocative of finding that perfect sea shell on a beach vacation."