7 Trader Joe's Lunch Ideas That Are Totally Delicious — And Aren't Salad
Trader Joe's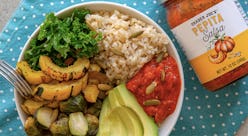 The holiday's are officially over and unfortunately that means getting back into your regularly scheduled programming (read: work). But regardless of what your typical day consists of, one thing you don't need to bring into 2019 is another year's worth of sad lunches. Whether your current struggle is finding something that's healthy and desk-friendly for office days, or something that's easy to prep and grab on the fly, a better option might be closer than you think. In fact, with a few simple Trader Joe's lunch ideas, you can say goodbye to sad salads and convenient junk food for your mid-day meal.
TJ's is a great go-to for freezer staples, seasonal dishes, healthy snacks, and of course wine, but its offerings for a delicious lunch are not to be discounted, either. There are a slew of meals you can easily prepare with 100% of the ingredients sourced at the store. And because the grocer chain's specialty is making food super convenient — by way of pre-cut veggies, pre-made sauces, and a freezer section full of just-thaw-and-eat options — it's an especially great source for lunch options that are satisfying, inventive, and totally accessible. To prove the point, find seven ideas ahead that will make your lunch time a whole lot more exciting — and not a single one is a salad (nothing against salads).
Pickle Pizza With Cauliflower Crust
Every day is — arguably — a good day for pizza, and this twist on a forever favorite comes courtesy of popular Trader Joe's-focused Instagram account @traderjoeslist. With just two products, TJ's Cauliflower Crust Cheese Pizza and Hot & Spicy Pickle Chips, this will satisfy your 'za desires, whether you're gluten-free or not.
Cauliflower Gnocchi
Another @traderjoeslist creation, this dish combines TJ's Cauliflower Gnocchi (found in the freezer section) with spiralized zucchini, hot Italian sausage, mozzarella cheese, and the grocer's super-versatile Vegan Kale Pesto.
Zoodle & Boodle Pesto
For a gluten-free, dairy-free, meat-free lunch that's incredible easy to prepare, all you need are three TJ's products: butternut squash, zucchini spirals, and the aforementioned vegan pesto. Done and done.
Cool & Spicy Noodle Salad
OK, technically "salad" is in the title but this Asian-inspired noodle dish isn't a standard bowl of greens. By tossing yellow lentil and brown rice spaghetti with pre-shredded cabbage and carrots and sliced bell peppers, plus tossing it with TJ's Spicy Peanut Vinaigrette, this lunch is anything but boring. Find the full recipe here.
Roast Beef Sandwich
Seasonal Horseradish Aioli is the star of this classic sandwich, which also utilizes TJ's sliced roast beef, sharp cheddar cheese, arugula, and sliced cornichons on multigrain bread. Find the full list of instructions here.
Roasted Veggie Bowl
Nothing like a wholesome, veggie-filled bowl of goodness. Enter this super-simple combo of frozen brown rice, pre-chopped kale, and a bag of frozen Roasted Brussels Sprouts & Roasted Delicata Squash, but the cherry on top is the TJ's Pepita Salsa. Find the full details here.
Veggie Burger With Almond Turmeric Slaw
Get a protein-packed lunch minus the meat with TJ's Hi-Protein Veggie Burgers, topped with grilled sweet potatoes, creamy avocado slices, and a slaw made with the grocer's Almond Butter Turmeric Salad Dressing. Find all the details here.