Hate Traditional Eyeshadow? Here's What To Use Instead If You Still Want Color
ImaxTree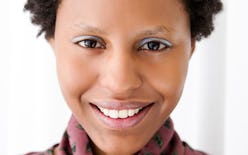 Eyeshadow can obviously be stunning, and the trending shades keep getting prettier (hello, pink lids). But the application itself? That can be downright intimidating. With the many brushes and multiple shades it often takes to create a great eye look, it's no wonder even people who love a bold color shy away from it altogether. It doesn't have to be difficult, though — because thanks to the many eyeshadow pencils on the market, adding a fun shade to your makeup look has never been easier.
Read more: 17 Gray Eyebrow Pencils That Blend Like A Dream
For those shoppers still only using powder shadows, the eyeshadow pencil (or stick, as it's sometimes referred to) will open up a whole new world of makeup application. The creamy color is all packed in one little tube and can act as not only a shadow, but a liner too. Plus, you'll no longer have to worry about your compact powders crumbling in your purse with a pencil, making them a must-have for on-the-go touch-ups.
Read more: The 35 Best Eyeshadow Palettes Of All Time, According To Passionate Reviewers
While there are lots of options out there to choose from, with a little help from some fellow beauty lovers' candid reviews, you can narrow in on the right pencil for you. Case in point: Laura Mercier's Caviar Stick Eye Shadow. The product is $29, and the sheer number of glowing 5-star reviews on Sephora alone make it worthy of a spot in your medicine cabinet. Praised by customers for its long-lasting color and blending capabilities, the application process is described by one reviewer as "so easy and flawless." Try out the Caviar Stick, which comes in a range of colors in both matte and shimmer finishes, in a pretty shade of amethyst to really make your eyes pop.
For an even wider selection of color options, take a look at Sephora Collection's Colorful Shadow and Liner for a wallet-friendly price of $14. Rated five stars by more than 1,600 reviewers, customers frequently call out its creamy pigmented shades. And since it has a wide selection of colors available in matte, glitter, and shimmer, you shouldn't have a problem upping your eyeshadow game. Break out of your comfort zone and give your lids a boost with a bold shade of blue.
Continue on to shop seven colorful eyeshadow pencils that shoppers love — and you will, too.