6 Stunning Braid Styles For Natural Hair Inspired By Lupita Nyong'o, Tessa Thompson, & More
@vernonfrancois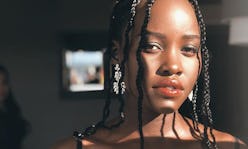 Braids have been a mainstay in black culture for centuries, but the stylistic staple hasn't always been welcomed with open arms in westernized professional spaces or the mainstream media landscape. But that's starting to change, as black women everywhere are dismissing society's limitations which confine them to harmful, Eurocentric beauty standards. As such, red carpets and magazine covers are now filled with natural, braided hairstyles, with stylists infusing fresh creative trends into classic favorites. And if you're looking for braid inspiration, there's no better place to start than your favorite celebrities' Instagram feeds.
It's no secret that Instagram is an inspiration destination, with celebrities and stylists alike sharing behind-the-scene shots of the most intricate styles. Whether you're looking to try braids for the very first time, or just want to peruse styles for creative inspo, social media is a great place to start. Before you end up in a hashtag hole, check out The Zoe Report's roundup of next-level braid styles inspired by Lupita Nyong'o, Tessa Thompson, and more, ahead.
Box Braids
Leave it to Vernon François to take creativity to new heights. As Lupita Nyong'o's go-to stylist, François consistently demonstrates just how inventive you can get with kinky texture. For the SAG Awards, François mixed cornrows and box braids for this experimental look that stunned on the red carpet.
Waist Length
If you're here for length, why not go all in like Tessa Thompson? Hairstylist Lacy Redway took the actor's flowing box braids up a notch with subtle pearl detailing throughout, giving the Sorry To Bother You star seriously enviable mermaid vibes.
Slick Cornrows
Not only is Amandla Stenberg a thought leader, she's a style and beauty tastemaker. Whether she's rocking grown-out armpits on the red carpet or stunning in skillfully laid edges, the 20-year-old always does her. These chunky cornrows with perfectly slicked baby hairs are optimal for playing with makeup and serving face.
Dainty Embellishments
Black Panther star Letitia Wright went for elegance at the 2018 Emmys, adding an ornate touch to this simple updo, courtesy of celebrity hairstylist Ursula Stephen. The crystalized hair adornments meshed dazzlingly with the actor's custom-embellished Pamella Roland gown. Add an elaborate finish to your low-key topknot with rhinestone accessories.
Bohemian Micros
Ultimate cool girl Zoë Kravitz is a longtime fan of itty bitty braids, and she often leaves the ends in beachy waves aligned with her signature bohemian vibe. Whether you just rolled out of bed or not, you can still channel Kravitz's breezy L.A. air with ruffled, unfinished micro braids.
Statement Beads
Whether it's a festival performance or an avant-garde Instagram post, everything Solange does feels like a work of art, including her hair. The youngest Knowles sister is all about making a splash — between rocking structural curly cuts and wearing literal sculptures in her hair, the singer is a master of the unusual. Whether you go all out with beads or just add a few, they're a surefire way to infuse colorful fun into any look.