If You Consider Yourself The Row's Biggest Fan, You'll Love These 7 Other Brands
Datura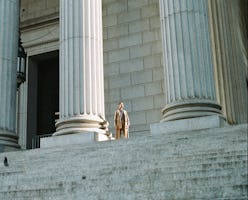 Every fashion lover knows there's nothing out there that's *quite* like The Row. The Olsen twins have a touch that's impossible to recreate, and that's what makes the label so special. Just like their style (which has a cult-like following all its own), it's simple but unique at the same time, with proportions, fabrics, and colors that are always minimal but still totally unexpected. But that means if you want to find some brands like The Row to add to your rotation, it can be nearly impossible. Thankfully, though, there are a few that'll help you rise to the challenge.
Because while The Row is in a league all its own, plenty of other brands are out there creating stunning, unusual, and minimalist pieces that go far beyond the average basics. And luckily, a few are even affordable — so if you do drop $900 on a t-shirt from The Row, you won't feel guilty buying pants from one of these labels to go with it. Ahead, seven brands to have on your radar when your next shopping urge hits.
COS is a perfect addition to your staples from The Row thanks to its unusual (and always beautiful) takes on basics. If you're looking for extremely minimalist pieces with unique proportions and unexpected details, this brand will never let you down.
As the brand's "About" page states, this Slovakia-based label is all about comfort — and it comes with a seriously chic look. It offers clothing, shoes, and accessories that are sleek and minimal, but always with a twist that makes each piece irresistible.
Former blogger Elin Kling started this label, and her understanding of elevated basics shows in every new item that hits the store. If you're looking for a silhouette your closet doesn't already have, start here — the pieces are as original as they are elegant, and the arrivals each season get better and better.
This pretty brand is Amsterdam based, and, as its website states, "seeks for a more purposeful approach to everyday dressing, with an emphasis on tailoring and an eclectic use of custom-developed fabrics." Each piece feels timeless, but always modern, too — and, like The Row, is the perfect way to give your wardrobe a simple-but-elevated touch.
Every piece from this label is designed and made in Los Angeles with a focus on sustainability. The result is clothing that's pretty, airy, and classic — but always features an Insta-worthy touch or two that keeps everything feeling of-the-moment and unique.
As the brand's "About" page explains, Sophie Hubert started Sophie H out of a "desire to redefine her wardrobe using qualitative, modern and timeless pieces as well as the difficulty to find elegant pieces made in respect of our social and ecological environment." The label makes a point to use organic, natural, or recycled fabrics, and aims to produce all pieces in Europe. While it's relatively under the radar — it's still under 10,000 followers on Instagram — its understanding of elegant, minimalist clothing will ensure it doesn't stay that way for long.
Datura is an up-and-coming brand that's mastered the art of turning basics into pieces Instagram can't get enough of. Better yet? Everything is made in New York City. Its standout pieces are undoubtedly the flowing silk dresses all over its site, which are available in a range of colors and come in stunning silhouettes for every season and occasion.