This Healthy 3-Ingredient Dessert Will Satisfy Any Sweet Tooth
Alexandra Anschiz/Shutterstock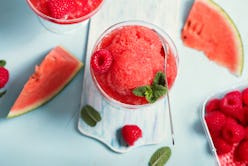 As anyone with a sweet tooth knows, indulging in dessert is one of life's simplest pleasures. And while a treat here and there is nothing to feel guilty about, there are also times when you want something that's not so rich and heavy, whether because you're trying to clean up your diet (like minimizing your sugar or dairy intake for example) or because the hot weather has you craving something lighter and brighter. Whatever your reasoning, you can still partake with some healthy dessert ideas that even top chefs approve of.
Often times the phrase "healthy" in front of the word "dessert" immediately conjures up an image of something that probably wouldn't quite satisfy your sweet tooth, but given the right tricks, you can quickly and easily whip up a treat that's tasty and won't leave you feeling sluggish or buzzing with a sugar rush. With knowledge of what healthy ingredients to include — as well as which ones to use less of, or skip out on entirely — it's a cinch to create a crowd-pleasing dessert that even your pickiest party guests will love (little do they know it's actually kinda healthy).
With tips that include how to best utilize seasonal fruits and the unexpected fridge essential that's the perfect ice cream substitute, some super talented chefs are sharing their favorite healthy-ish dessert options — none of which sacrifice one ounce of flavor. Check out all six ahead.
Peach & Rosemary Granita
Think of a granita as a fancier version of a slushy that you eat with a spoon. And unlike the convenience store version, you can make yours au natural using fruit juice and just a few other ingredients. "Any juice or fruit can be made into granita," says Ana Ortiz, chef and owner of NYC-based boutique catering company, Day Into Night. "Make a simple syrup with equal parts water and sugar. Purée your fruit, then add the syrup one tablespoon at a time until it tastes good — this will vary fruit to fruit and batch to batch depending on the sweetness of the fruit."
Ortiz notes that while sugar is a key element of the dish, there's an easy way to use a lot less — pick a fruit that's extra ripe. In summer, overripe peaches are a perfect option. To keep it from being too sweet, the chef also suggests a few additions to shake things up. "I sometimes add a little lime juice or bitters to amp the flavor or you can add rosemary or thyme to your simple syrup, one or two sprigs is enough. Peach and rosemary simple is a great combination."
Once you've chosen your desired flavors, pour the liquids in a square pan, place in freezer, and gently break up the mixture with a fork every hour or so to keep the fluffy, snow-like texture.
Grilled Or Sautéed Fruit
"One of my favorite things to indulge in especially during the summertime is grilled stone fruit," says Ria Dolly Barbosa, Executive Chef at Paramount Coffee Project in Los Angeles. "Try including two or three different kinds to play off of the sweetness, richness, and acidity. For example: peaches, nectarines, and plums for a wonderful flavor contrast."
To grill your desired fruit to perfection, Barbosa drizzles them slightly with olive oil (to prevent sticking) and heats until softened with nice grill marks. And while she prefers to top with frozen custard for her own eating pleasure, you can swap out with Greek yogurt for a healthier substitute. Then, add a bit of honey and very light sprinkle of nice finishing salt.
Executive Pastry Chef Kayla May of Josephine in Nashville also loves cooked fruit for a healthier dessert option, and she offers another take on this dish. "Peaches are in season right now so I'd chop them into bite-sized pieces and add to a pan over medium-high heat," she explains. "Generally, I'll toss in a little brown sugar, lemon verbena, and butter, and finish with a little lemon juice, but you could also easily substitute coconut sugar." The use of coconut sugar is slightly less glycemic and it's also said to have some additional nutrients.
Watermelon Sorbet
Make the most out of one of summer's favorite fruits by whipping up a watermelon sorbet, like pastry chef Clarice Lam of all-natural delivery dessert service The Baking Bean suggests — and she provides a great reason for opting for fruit that's in season. "If you use yummy ripe fruit as your star ingredient, you won't have to use as much added sugar," she explains.
According to Lam, all you need to do to make your own watermelon sorbet is blend fresh watermelon, lime juice and simple syrup, and process in an ice cream machine. To use less sugar, she recommends choosing a sweeter watermelon, and even offers a pro tip on how to tell if you're picking a good one. "Oblong ones are male, while round ones are female and are usually sweeter!" she explains.
Greek Yogurt With Walnuts & Honey
At a Greek restaurant like Estiatorio Milos at the Cosmopolitan of Las Vegas, real Greek yogurt is a staple — and that extends into the desserts as well. "At Milos, we serve it topped with chopped walnuts and thyme honey from Kythira, which is harvested exclusively for the restaurant," says Head Chef Jesse Maldonado. "As one of nature's miracle foods, honey, which provides a valuable source of antioxidants and phytonutrients, pairs perfectly with [the] yogurt, making for a delightful and nutritious dessert."
Pavlova
Another great vehicle for maximizing seasonal fruit is a pavlova, or baked meringue. "Pavlova is one of my favorite desserts during any season," says Lam. "It's named after a Russian ballerina who wanted something light."
This dessert's lightness can be attributed to the fluffy meringue (egg whites beaten with sugar to stiff peaks, then baked at around 300 degrees for an hour). "This disc of meringue has a crunchy shell and fluffy marshmallowy center," she explains. "Top it with fresh whipped cream and bright seasonal fruit."
Baked Pears With Goat Cheese
LA's Italian eatery Little Dom's offers a perfect pastry-free option for fall weather, baked pears stuffed with goat cheese. Pastry Chef Ann Kirk simply cores ripe pears and fills them with a mix of chevre and a bit of sugar, then bakes them until caramelized. To finish, she adds a drizzle of honey drizzle, toasted pecans, and grape clusters. "Honey goes with almost everything and it's a healthy sweetener," says Kirk. "Drizzle over fruit and soft cheese and serve with toasted, salted nuts. It's also great over tangy frozen yogurt or toasted pound cake."