Stock This Chef-Approved Ingredient In Your Fridge For A Ton Of Flavorful Dishes
Nungning20/Shutterstock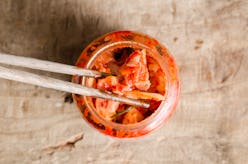 Not everyone is blessed with skills in the kitchen. But when you're trying to eat healthier or avoid getting takeout every night, it helps to have a culinary trick or two up your sleeve to avoid boring, flavorless meals or keep from just making the same dishes over and over. Thankfully there's one main way to ensure that you can cook a wide variety of things even if you're short on time and ingredients or if you've got a limited skill set, and that's knowing how to stack the deck in your favor with fridge essentials.
What you've got stocked in your fridge will go hand and hand with your pantry essentials, like pasta, rice, beans, and other dry goods to create some healthy and delicious meals in a pinch. But what if you aren't even sure where to start? That's where the experts come in handy. With the help of top chefs, you can go from kitchen novice to domestic goddess, whether that means knowing which pots and pans to invest in, or what produce, proteins, and even condiments to regularly have at the ready for dishes that feel creative and complex, but are actually super easy.
To learn exactly what the experts use for foolproof, flavorful dishes every time, read ahead. Then hit up the market and make sure you've got them all.
Dijon Mustard
Chances are, you've already got this condiment stashed away in your fridge somewhere. And while you already know it's great for topping burgers and hot dogs, it's actually really versatile. "[Dijon] can emulsify and flavor a vinaigrette and it can be used as a crust on basically any meat — alone, or with breadcrumbs or nuts," says Colleen Dalton, Executive Chef at Yves in New York City. "You can chuck a spoonful in macaroni and cheese for a flavor boost. And, it's delicious on a turkey sandwich —my favorite."
(Real) Unsalted Butter
According to Chef Josh Hedquist of Italian eatery Giulia in Minneapolis, Minnesota, there's just no substitute for this flavorful fat that can be used so many ways. "It's simple, but basting anything in a nicely browned butter – only real unsalted butter — gives any dish a savory kick," he explains. "Keeping it simple is my philosophy so I use this method all the time for cooking pork chops or steak for an uncomplicated, quick and incredible meal."
Kimchi
The funky, fermented cabbage isn't just for Korean dishes these days. In fact, Ria Dolly Barbosa, Executive Chef at Paramount Coffee Project Los Angeles, uses kimchi all sorts of unexpected ways. "In summer, it's nice to have on hand when you don't want to fire up your stove and you want to eat something cool and simple, like kimchi with rice or grains, pickles, and maybe an egg," she says.
Citrus Fruit
Whether it's lemons, limes, oranges, or grapefruit, having some type of citrus fruit in your fridge is a no-brainer for creating summer essentials like salad dressings, marinades, and, of course, the occasional cocktail. But that's not all. "We all know they contain incredible heath benefits and are super tasty in salads, but chefs rely on citrus to add a splash of acid to tons of dishes, adding a tart brightness of acidity to cut through rich and fatty foods," shares Sammy Monsour, chef and partner of LA's Preux & Proper. "I also love keeping an assortment of thinly sliced citrus inside my water pitcher for the flavor and nutrients."
Curry Paste
This flavor bomb can help bring an assortment of random ingredients together, according to Barbosa. "This is my 'clean out your fridge' go-to," she explains. "Super easy to sauté ingredients together then finish with a little coconut milk to make it as saucy or as dry as you like."
Peppers and Chiles
Monsour suggests also stocking your crisper with fresh peppers and chiles, such as jalapeños, serranos, habaneros, anaheims, poblanos, and sweet bells. "They're just as great raw and crunchy as they are melted into your tomato sauce," he says. "Sometimes I'll make a frozen pizza and simply load it with assorted peppers. It might sound pretty straight-forward, but a balanced blend of perfectly layered peppers is an explosion of flavor that cannot be rivaled."
Pickled Vegetables
Pickled veggies — like red onions, carrots, radishes, or beet — are great because as well as acting as a flavorful, acidic addition to many dishes, they also have a long shelf life in your fridge. "They can be added to salads, used as a garnish, or incorporated into many dishes and give a bright pop of flavor," says Executive Chef Galen Duckles of LA's barcito.
Parmigiano Reggiano
If you're going to keep just one cheese regularly stocked in your fridge, let it be this classic Italian one. "[Use it to] season pastas or serve shaved on top of a nice charred beef tagliata or any dish," offers Executive Chef, Luca Moriconi Culina and Vinoteca at Four Seasons Los Angles at Beverly Hills. "Or have it in chunks as a snack while cooking!"
Kombucha
Unexpected? Maybe. But according to Chef Vinson Petrillo of Zero Restaurant + Bar in Charleston, South Carolina, this fermented tea packs a flavorful punch when cooking with it. "In addition to being a great beverage to keep in the fridge, I also like to use kombucha in my cooking as it is great for reducing and glazing over barbecue meats, fish, or vegetables," he explains.
Rotisserie Chicken
"One of my refrigerator essentials is a roasted, organic chicken, which allows me to make a quick, delicious meal for the family," says Leslie Silverglide, CEO and Co-Founder MIXT restaurants. "I pack it in lunchboxes for my four-year-old, make big salads, or throw it into quesadillas."
And if chicken isn't your thing, Duckles suggests that any pre-cooked protein is handy. "Whether you cook it yourself on Sunday or buy pre-cooked beef or tofu can really make putting a meal together a snap," he adds.
Marinara Sauce
The classic Italian red sauce probably has more uses than you think. "Marinara Sauce can be used in pretty much any cuisine — I even make a chicken tikka masala with it," says Chef Maneet Chauhan of Chauhan Ale & Masala House and Chaatable in Nashville, Tennessee. "You can use it not only to make pasta or Mexican rice, but you can also use as a base of your pizza!"
Fresh Herbs
Monsour also praises the powers of fresh herbs for taking any dish to new heights. "Parsley, scallions, cilantro, basil, mint, dill, chervil, tarragon — all of them," he recommends. "I always keep assorted herbs and experiment with mixing and matching. It's crazy to me how they can dramatically change the entire profile of a dish. Keep a solid assortment of herbs around and your dinners will be far from boring."
Fish Sauce
Petrillo relies on this Asian staple (specifically the Red Boat variety) for winning dishes at home as well as in his restaurant. "I always keep this on hand as the flavor has tons of umami and is also a great replacement for salt," he says. "It is a quick way to flavor rice dishes, marinades, and vinaigrettes."
Miso Paste
"I think miso is a great way to provide umami and seasoning without resorting to salt," shares Peter Lemos, chef and co-owner of Wax Paper in Los Angeles (and the forthcoming Lingua Franca). "It adds depth to anything you're making. For example, adding a little red miso at the beginning of a tomato sauce. Just enough to season it will add incredible depth without resorting to browning meat."
Chicken Stock
For Will and Coral Frischkorn, co-owners of Cured in Boulder, homemade chicken stock may be a little more labor intensive than the store-bought kind, but it's worth the trouble since it can add flavor to tons of dishes, like paella, soups, braised veggies, and so much more. "The difference between a homemade stock and store bought is tremendous, and it's one of the easiest things to make with things almost always on hand," the couple explains. "They say that the ingredients make the meal, and this is the foundation of so many for us."