This $25 Dinnerware Set Will Be The Game-Changer Of Your Next Dinner Party
@ikeausa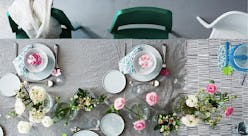 Though outdoor entertaining season is starting to come to a close, there's no reason to stop having those fun, festive, cocktail-filled fêtes you've gotten accustomed to — you might just have to bring the party inside for a few months. That said, without the ambience of your twinkling patio lights or view of your carefully tended garden, the pressure's on to create a stunning table that can stand on its own. And as some of the most savvy hostesses know, you don't have to spend a fortune to find some seriously chic pieces to serve you and your guests. In fact, there are a ton of gorgeous dining essentials that are also completely affordable.
It's important to note that glamming up your table setting doesn't have to mean mimicking a traditionally fancy one you'd see at a fine restaurant. You might find that mixing styles — like modern and rustic, for example — allow you to dress it up in an unexpected way that feels stepped up but totally unfussy. To do that, consider juxtaposing shiny metallic pieces (your flatware or napkin rings) with some earthier ones, like rattan placemats that instantly give a warm, homey feel that balances some of the glitz.
Another way to have some fun with your tablescape is by playing with color. With the new season, this is even a great place to try out some of fall's biggest trends. According to Pantone, those would be chocolate brown, deep orange, forest green, and even pinky-peach among others.
If these ideas have you yearning to start planning your next dinner party now, see ahead for a few wallet-friendly items to potentially stock up on, from an 18-piece dinnerware set that really pops to chambray napkins that look oh-so-chic — and they're all under $40.
You just can't beat the price and style for IKEA's dinnerware sets. For under $25, get an 18-piece collection that's available in some fun colors that make entertaining a little more interesting.
H&M's recently launched home decor line rarely disappoints, as is proved by this beautiful floral tablecloth that's just festive enough for fall without being totally on-theme.
Make family-style serving feel upscale — without being stuffy — by using a beautiful stoneware platter. This one from Target is just $38 and can go with practically anything.
One of the easiest ways to subtly add a glam touch to your table is with this gold flatware set.
These frayed chambray napkins are like your favorite pair of ripped jeans but for the table: totally cool but also give a comfortable feel.
There's something European about using tumblers for wine glasses, and these classic Durlex ones are tinted grey which makes them feel just a bit more dressed up.
Add some texture to the table with your placemats. Even though natural fibers thrive on your outdoor dining settings, bringing such materials inside gives an earthy feel makes it more cozy.
These gold napkins rings instantly upgrade any setting — they're basically jewelry for your table.
What dinner party is complete without an epic charcuterie plate?
Serve water or a batch of Moscow Mules in a hammered copper pitcher that will keep it nice and cold, but also adds another unique metal to the table.