Yes, You Can Get Spiked Cold Brew In A Can &, Yes, It's Delicious
@cafeagave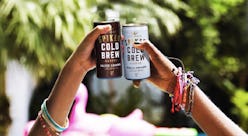 Summer entertaining season is in full swing, and while that can occasionally mean slaving over an impressive al fresco dinner complete with mixologist-quality drinks made from scratch, sometimes quick-and-easy solutions are the way to go. And for those instances when the opportunity for an impromptu summer soiree strikes, it might just benefit you to have a few tasty canned cocktails on hand to make your hosting duties a heck of a lot easier — and your guests won't even know the difference.
Along with some other pool party essentials including an Instagram-worthy float, a chic and flattering suit, and some simple BBQ dishes that are easy to whip up, canned cocktails are totally crucial for setting a fun and summery mood at your bash. But before you turn your nose up at the idea, you should know that there are a ton of brands that are making better quality versions than ever before — kind of like how you can now get some sommelier-approved wines in can form, too.
That's right, cans aren't only for cold, crisp brewskis — or even those cheesy wine coolers — anymore. In fact, some of your favorite classic cocktails like a gin and tonic and Bloody Mary can be found in cans, but so can a few more creative options as well (spiked Cold Brew, anyone?). To prove the point, and offer you some ideas for the next bash you're throwing on your newly revamped patio, read ahead for six canned cocktails to sip before summer's over.
Strawberry Cooler
What's more summery than strawberries? This sophisticated take on a wine spritzer combines Oregon Pinot Noir with local strawberries, cranberry juice, and a dash of lime. Essentially, it's like sipping the season in canned form.
Spiked Cold Brew
One of your favorite summer drinks just got even better — with the addition of alcohol. Cafe Agave's spiked cold brew is creamy and slightly sweet, but with a boozy punch courtesy of 12.5 percent ABV.
Spicy Bloody Mary
Planning a brunch bash? No daytime party is complete without a Bloody Mary, and Cutwater's vodka-based version is peppery and spicy for those who prefer theirs to have a kick. Add as many elaborate garnishes as you like.
Moscow Mule
There's something especially refreshing about sipping a classic Moscow Mule in the summertime. But admittedly, these multi-step cocktails can be a pain to make when you're in a pinch. Instead this three-ingredient (vodka, organic lime juice, and special ginger brew) version from San Francisco-based brand The Copper Can can be a solution for your last minute party planning needs. Or you can just sip one at your leisure, no party required.
Gin & Tonic
Gin and tonic anyone? Get your hands on a totally portable version of the iconic cocktail for a totally crisp, herbaceous, and refreshing poolside drink. This Brooklyn-based company uses American dry gin in their perfectly balanced and delightfully bubbly G&T. Even the most discerning classic cocktail enthusiasts will approve.