The Unexpected Hobby Everyone Is Trying In 2019, According To Pinterest
Jacob Lund/Shutterstock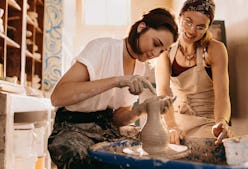 The beginning of a new year is the perfect time to reflect on all you've accomplished (no regrets, only reflection), but also a time to start thinking about all the things you want to do but, for whatever reason, haven't yet. This could be as simple as sampling a new type of food or as extreme as jumping out of an airplane, but regardless of where your goals fall on the spectrum of totally doable to fairly lofty, now is the time to start setting them. And if self-care is something you're wanting to put stock in for the new year, perhaps finding a new hobby to try is one accessible thing to put on your list that might just enrich your life in a way you never knew was possible.
For some people, finding a new hobby isn't as easy as it might seem. That may be attributed to a busy schedule that hasn't allowed for a lot of personal reflection, or the fact that it's tough to narrow your interests down to just one. In either case, if you're in need of a little inspiration, there's no place like Pinterest to find out what everyone else is looking at — from wellness trends to winter vacation destinations — and that includes the trendy hobbies people want to devote their free time to. Ahead find six of the site's most searched ones for the season, and see if any meet your needs, skill set, and interests. Here's to having a more fulfilling 2019!
Pottery
If taking a pottery class feels like a therapeutic and tactile way to channel your creativity, you're not alone. According to Pinterest, searches for ceramic pottery are up 475 percent. And if your only knowledge of how to throw on a wheel comes from that iconic Ghost scene, don't stress: You can find beginners classes nearly anywhere that will teach you the basics along with others who are also just getting their feet wet.
Money Management
It may not be the most creative undertaking, but honing your skills at money management have some pretty obvious rewards. And for those of you who don't have a natural knack for number-crunching, it might make it more accessible — and perhaps even fun? — to sign up for a quick intro course to get started. With tax season only months away, this hobby seems a pretty practical one, and that's probably why "52-week savings plan" has been searched on Pinterest 295 percent more of late.
Photography
These days it's easy to be a photographer, with so much great technology already built into our smart phones (editing apps, various formatting options, etc.) but there are still ways to make it a more challenging hobby. For example, "urban decay photography" has gone up 44 percent in Pinterest searches, so you might try focusing on that subject, or try using a film camera or a manual digital one that lets you learn a few new skills in a hobby you already enjoy.
Painting
You don't have to have Rembrandt's natural talent to take up painting as a hobby. In fact, according to Pinterest, there's a rise in searches for both body painting ( up 444 percent) and acrylic pour painting (up 660 percent) if you want to try something that doesn't require any academic training yet still lets you get super creative. If neither of those sound quite right, you can take a local class or even just start playing around at home until you find your angle.
Gardening
You're not alone if strengthening your green thumb is something you're hoping to do in the new year. A lot of people are hitting up Pinterest for gardening tips, but most particularly how to grow an avocado tree, which recently jumped up 101 percent in searches. Everyone's favorite toast topping might not be a viable option depending on where you live, so before you do plant a tree — or anything for that matter — research what botanicals work best in your climate and the current season.
Sketching
The fact that "sketchbooks" have gotten a boost in searches (Pinterest sees a whopping 513 percent increase) shows that daily doodling is something people seem to be showing interest in. Sketching — regardless of your skill level — is a great way to disconnect from technology and de-stress while putting your energy into something creative — even if no one sees your work besides you!