The 5 Most Copyable Celebrity Hair Color Transformations — Because There's Been *A Lot*
Tim Rooke/Shutterstock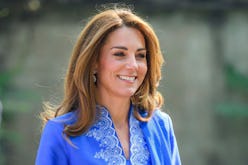 Blink, and you could've missed ten celebrity hair changes that took place this autumn. The game-changing dye jobs came in quick succession: Actors known for their blonde hair darkened their tresses, brunette stars embraced lighter locks, and — perhaps most memorably — Bella Hadid, a honey blonde just weeks prior, walked down Miu Miu's catwalk with fresh, jet-black hair. Fall 2019 hair colors have been all about embracing something utterly new, whatever that personally means for you.
There are some colors the celebrity-inspired should bookmark for their upcoming salon visits, though. Although you may not be quite ready to give up your natural color (or whichever one you've grown fond of), many of the celebrity-approved hues this year wouldn't be gigantic leaps, depending on your current shade. For example, Ashley Benson's blonde-to-brunette transformation has been a major moment for the actor, but anyone who already has dark hair would just need to ask for a subtle, lightened-up brunette ombre. Or, ask for face-framing highlights à la Kate Middleton — who, in case you haven't seen, has officially become a honey blonde.
So, which shade is calling your name this fall? Continue reading to find out. Below are five celebrity-inspired hair colors to consider this season, plus fan-favorite products to maintain it well after you leave the salon.
1. Sun-Kissed Brunette
Ashley Benson kept some of her signature blonde warmth when she colored her hair brunette, opting for a natural, sun-kissed shift near her ends. The understated variation provides a low-key brightening effect fans will be asking for all autumn long.
2. Cinnamon Blonde
In lieu of the classic "dirty blonde", Taraji P. Henson's not-quite-blonde, not-quite-brunette cinnamon-hued hair called upon coppery warmth to give it a kick. Bookmark it if you're into low-maintenance colors, too: The in-between shade faded gracefully into the actor's roots.
3. Multidimensional Honey
Once again, Kate Middleton's honey-colored strands prove how well-placed highlights can switch up your entire look. The royal's new color leans into multidimensionality — with certain brighter pieces catching the light more than others.
4. Timeless Black
On the other hand, Bella Hadid's newly darkened hair is deep, dreamy, and utterly classic. Gone are the days of the model's dark blonde hair; and if you, too, want to wave blonde goodbye, stock up on darkening glosses to banish any fading.
5. Dusty Pastel
Finally, something for the adventurous stylist. Kristen Stewart's colorful hair has been a defining feature of the actor all year; however, the star has let it slowly fade more recently, resulting in swoon-worthy shades of pale rose gold anyone new to pastel hair should try out first.