The "Autumn Glow" Hair Trend That California Girls Are Asking For
instagram.com/chrisappleton1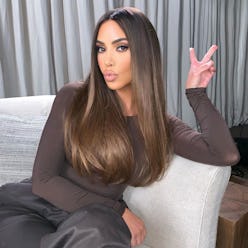 Kim Kardashian had the right idea by going dark, even if it was a wig. The "cool chocolate brown" style, styled by Chris Appleton, was shared and regrammed for days on end. The reason why is a no-brainer: All of the fall 2019 brown hair trends popping up on the 'gram (and in salons) add an instant touch of autumnal warmth to your aesthetic.
"Richer tones such as dark chocolate brunette, subtle caramel highlights, and auburn and copper hues will see a resurgence this fall," Christine Silverman, a Los Angeles-based hair colorist at the Ramirez | Tran Salon tells TZR.
But no matter which iteration of the trend you choose, preserving the life of your dye job should be top priority. "Brown hair color lasts depending on your lifestyle," Caitlin Richardson, owner of Los Angeles' Blonde / Blond Salon, tells TZR. "If you wash every day and sweat before a shower after an hour-long hot yoga class, your brunette locks will fade within eight weeks, and you'll be wanting a refresh." And you might want to cool it on the hot tools, too: They can take off another two weeks of your color's life if you use them excessively.
With those tips in mind, see six celeb stylist-approved ways to embrace your dark side ahead.
Autumn Glow
Celebrity colorist Nikki Lee gave Mandy Moore a gorgeous set of highlights for an Emmy nominee party on Aug. 13. Want in? Ask for an "autumn glow" job. "It's rich and warm with flickers of golden light," Lee said in a press release. "It feels like something you can wear on vacation or the end of summer, and well into winter."
Chestnut Brown
"The common pattern with browns are vibrant and dimensional color," April Kayganich, an Austin, Texas-based colorist and curl expert says. To bring that out, as for rich tones like chestnut and maple.
Gold Obsidian
"For brunettes, gold obsidian is taking off," Stephanie Brown, master colorist at IGK Salon SoHo in New York City tells TZR, noting that warmer hair is more flattering for most skin tones. "It's a warm dark brown — almost black — that's very flattering and looks like specks of gold reflecting off of the hair."
Cinnamon Brunette
"A rich medium brown with cinnamon ombré pieces is another trendy brunette shade for the fall," Brown says. "It adds dimension to make hair look fuller and shinier." The colorist notes that you might want to refrain from overdoing it on your highlights, as it could possibly look brassy. "So just a few pops of that warm color [to] brighten up your face [should do the trick]," she noted in an additional release.
Copper Chunks
Silverman says that copper-based and auburn shades are a trend among dark hair this fall. Opt for highlights that are strategically placed throughout the hair to give warmth all over.
Classic Caramel Tones
Silverman urges you try subtle caramel highlights"this fall. It gives the hair dimension without adding too much harsh color.