Bella Hadid With Blonde Hair Looks Like Gigi's Twin
Vittorio Zunino Celotto/Getty Images Entertainment/Getty Images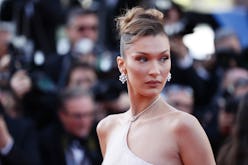 The sisters Hadid are like yin and yang — inseparable even though their aesthetics are wildly different — but it wasn't always that way. When the younger of the duo was first breaking into the modeling industry, she changed her look dramatically to differ from her elder sister. Now that Bella Hadid has dyed her hair blonde, it's clear why she and Gigi were once actually mistaken for twins.
You might have been mindlessly scrolling through your social media on Tues. without even blinking an eye at the blondie on Bella Hadid's Instagram Story. After all, the 22-year-old does post a vast number of photos of her bestie Gigi, who looked to be nuzzling up lovingly to a horse.
A closer look, however, would reveal that it was indeed Bella in the photo, only with her sister's dirty blonde hair. The model was on a shoot for V Magazine when she debuted the new dye job, so it's unclear whether the blonde is only temporary or here to stay (here's to hoping for the latter).
She may be an iconic dark brunette, but the model has in fact gone blonde-for-a-day before. Back in March, the fashion photographer Mert Alas convinced her to go lighter during their trip to Turkey. This time around, though, it's the blondest you've seen her since she was a child.
Hadid has posted throwback family photos before in which she and Gigi both have naturally sunny blonde hair as kids, no doubt an inheritance from their Dutch mother, Yolanda. In 2016, the model told Allure that she went dark years ago to differentiate from her sister while she was trying to pave her own path in the industry.
"I just have a darker personality. And my sister being blonde and me being brunette, it's a good separation," she said to the Allure. "Blondes are so angelic. My sister can get away with anything."
Three years after the interview, it now looks like the longtime brunette can get away with going back to her blonde roots, too. Hadid's hair in the Instagram Story is a perfect summer shade, reflecting sunlight in carefree beachy waves.
Perhaps this time she'll let it stay for a while. However permanent, the model's blonde moment has been a nice, nostalgic change, in any case.