This Super-Simple Smoothie Recipe Will Be Your Healthy Summer Go-To
zjuzjaka/Shutterstock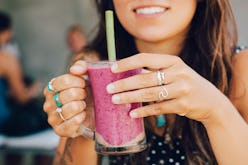 When you're on the go, it's easy to reach for not-so-wholesome eats purely due to what's readily available — which can mean takeout and pre-packaged foods loaded with undesirable ingredients. But it doesn't have to be that way. With a decently stocked pantry and a few easy, healthy smoothie recipes under your belt, it will take you just as much time (or less) to whip up something your body can really benefit from as it does to hit up a drive-thru.
Read more: Drinking Your Veggies Vs. Eating Them — Experts Weigh In On The Great Debate
There's a reason why many wellness pros turn to homemade smoothies when in need of a healthy snack: in addition to packing it full of fresh (or freshly frozen) fruits and vegetables, you can make them fully super-powered concoctions with the addition of nutritional supplements and superfoods (including protein and collagen powders) or even a sprinkle of bee pollen for some extra immunity support.
But even if you don't have a kitchen full of trendy wellness products, you can still make yourself a smoothie on the fly that boasts benefits for you body, from giving you a surge of energy to power through the day to curbing sugar cravings and keeping you satiated (thereby leaving you much less likely to reach for something unhealthy later). Ready to start sipping? Ahead, find some nutritional experts' favorite go-to smoothie recipes that are not only a cinch to make, but will also keep you feeling good from the inside out.
Summer "Sunblock" Smoothie
As the founder of wellness brand Philosophie and healthy lifestyle expert Sophie Jaffe loves to spike her smoothies with superfoods. And one of her favorite combos for the summer is this antioxidant-rich blend that includes coconut butter and a bit of one of her own powder blends that includes brown rice for protein and acai berry. But what she loves most about this concoction are its skin health benefits. "Have you heard that you can also eat and drink additional skin protection by flooding your body with antioxidants?" she asks. "These amazing compounds found in foods like berries, beans, and artichokes can boost skin protection and reduce sunburn redness by 40 percent! So before moving from the shade to the sun, gather Berry Bliss, Coconut Magic, goji berries, strawberries, mango, carrot juice, coconut water, and nut milk to whip up this absolutely delicious summer smoothie!"
Classic Cacao Smoothie
Cacao, coconut butter, and bee pollen are the unexpected stars of Jaffe's other favorite smoothie — which she mentions is particularly great for keeping energy up and satisfying your sweet tooth without a ton of sugar. For this one, combine two cups of unsweetened almond milk, a frozen banana, two dates, a tablespoon Cacao Magic Superfood + Protein Blend (use raw cacao powder if you've got that, but this product also contains superfoods like chia seeds, hemp protein, and maca), a tablespoon of coconut butter, a tablespoon almond butter, and a teaspoon bee pollen with ice and blend to a creamy, smooth texture.
Orange Strawberry Smoothie
Amy Gorin, MS, RDN, owner of Amy Gorin Nutrition in the New York City area, recommends this sunny orange strawberry smoothie as a great way to start your day. Plus you might already have all the components on hand. All you need are frozen bananas, 100 percent pure orange juice, strawberries, and two-percent-fat plain Greek yogurt.
As for the benefits? "The 100 percent orange juice is an excellent source of immune-helping vitamin C, and it also provides blood-pressure-helping potassium as well as the flavonoid hesperidin," says Gorin. "This nutrient may help brain health by reducing inflammation and maintaining bloodflow to the inner parts of your brain. The Greek yogurt offers protein to help keep you fuller for longer, as well as bone-helping calcium,"
High Protein Vanilla Smoothie
Though it may look like a typical green smoothie, this protein-packed drink has a surprisingly sweet essence, thanks to the addition of vanilla bean. "Vanilla bean is a wonderful way to naturally sweeten a smoothie, and when combined with frozen edamame and almond butter it makes a great vanilla smoothie," Gorin says. Yup, that green color isn't from kale or spinach — it's the edamame. "This protein and fiber-filled ingredient has a somewhat neutral taste, so it picks up the flavors of the ingredients it's paired with — while helping to keep you fueled," she adds. See the full recipe here.
Blueberry Peanut Butter Smoothie
Though perhaps an unexpected combo, blueberries and peanut butter are actually a delicious and nutritious duo. For a smoothie that will keep you satisfied through the day, try combining these ingredients with low-fat or plant-based milk, Greek yogurt, a banana, and a dash of maple syrup. "Berries provide health-helping antioxidants, and they may also help lower your LDL 'bad' cholesterol," explains Gorin. "Then the healthy fats from the peanut butter, as well as the protein from the Greek yogurt, help to keep you satiated throughout the morning!"